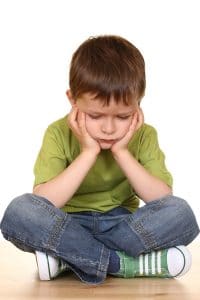 We don't have to take vacations to Disney World—or some other fancy place—and buy up the souvenirs in order to bond with our young kids. We don't have to purchase pricey presents or purchase everything they want on every Target trip (or on most Target trips). We don't have to spend every waking moment with them in order to feel closer.
You probably know this intellectually. But when you want the best for your kids, to make them smile, to make them happy, you forget. And you load up your shopping cart with random toys and trinkets, and buy big trips you can't afford.
But connection happens in smaller ways, in everyday moments. While the big trip can build sweet memories, so can playing pretend with your 3-year-old. As Gretchen Rubin said, "what we do every day (or at least most days) matters more than what we do once in a while." Below therapists shared these small—and still very much significant—strategies to help you and your kids sincerely bond.
Play together. Play is one of the most significant ways you can connect with young kids, according to Rebecca Ziff, LCSW, a psychotherapist who specializes in working with kids, teens and families. When you play with your kids, "you are communicating to them they are important, loved, and fun to be around." Play is your child's main method of self-expression, she said.
"Play is the 'work' of children—it is very meaningful and crucial in terms of physical, cognitive, and emotional development," said Laura Athey-Lloyd, Psy.D, a psychologist who specializes in working with children and adults.
Ziff suggested setting special time aside every day to play with your child. Let them pick the activity, get down on their level (e.g., on the floor; side-by-side), and let them lead, she said. For instance, according to Athey-Lloyd, your 2-year-old might want to serve you food that he's "cooked." Your 5-year-old might want to use her dollhouse characters to tell an elaborate story. And your 8-year-old might want to play a board game.
Avoid telling your child how to play or following the rigid rules of a game or activity—like coloring. Let your child start, so you can observe. Then "mirror what they are doing," Ziff said. Maybe your child is drawing dots inside the coloring book, so you do the same. Maybe they're not even coloring but are dumping the crayons out and putting them back in, which you do, too.
Other ways to play together include: cooking, baking, making anything, walking (or skipping!), hula-hooping, dancing and reading. Doing these kinds of activities together is not only bonding, but it also boosts your child's self-esteem, said Sean Grover, LCSW, a psychotherapist and author of the book When Kids Call the Shots: How to Seize Control from Your Darling Bully—and Enjoy Being a Parent Again.
Plus, it provides "your child with wonderful memories of a parent who was truly engaged and dedicated," Grover said. "When a child feels valued by their parents, they value themselves more and work harder to achieve their goals."
Narrate their play. Both Ziff and child psychologist Adam Pletter, Psy.D, recommended narrating your child's play. This is simply saying aloud what your child is doing. "You can think of yourself as an announcer at a baseball game providing the play by play," Ziff said.
It also includes pinpointing their positive behaviors. "The more the parent attends to these positive behaviors, the more the child will work to get that positive attention, which is simply the parent giving undivided attention in those few minutes," said Pletter, who works with many families struggling to find the balance of connecting with their children while managing their adult responsibilities and pressures. This enhances your connection because your child feels supported and encouraged, he said.
Ziff shared this example of what narrating can look like (which, of course, will depend on your child's age): "You're starting to make the soup. You're putting in so many yummy vegetables…now some spaghetti, some milk, and lots of pepper! Oh, now you're turning on the burner and making it extra hot. Sizzle, Sizzle."
Share in your child's interests. Know your child's favorite characters and the lyrics to their favorite songs, Athey-Lloyd said. "You may be sick of hearing 'Let It Go' for the thousandth time. But this time will pass quickly, and someday you will be nostalgic for their rendition."
Also, expand on their interests. If they like trains, in addition to buying a train set, take them on a scenic train ride, Athey-Lloyd said. Experiential learning is especially bonding, and also creates wonderful, vivid memories for kids, she said.

Involve them in your own interests, too. Pletter recommended engaging your child in age-appropriate, parent-centered activities. For instance, you might attend sporting events or concerts. You might go bike riding or visit a science museum.
This is especially important because in many households today kids rule the roost. More and more families are focused on their children's wants and interests, which actually negatively affects connection and creates pressure, Pletter said. Kids begin to have more control than their parents. "Combine that with the child having access to the adult world online (in many cases) and the boundaries between the generations continue to blur," Pletter said. "[This] results in increased pressure on the child to act older and anxiety as the child is sometimes overwhelmed with the adult level decision-making and power."
To create a balance, Pletter suggested this exercise: Cut out six slips of paper, with three for you, and three for your child. Write down three different activities that you know your child enjoys doing that you're willing to do. Then have your child pick three activities that you enjoy doing that they're willing to do. "Throw all six slips in a hat and pull one at a time, knowing that there are six activities that you can do together with some common interest that will enhance your parent/child connection."
Ultimately, the best way to connect with your child is to give them your full, undivided attention. It's to wear their lenses. As Athey-Lloyd said, "From my perspective, the key to connecting with young kids is to practice seeing the world from their perspective." This is how we genuinely listen. This is a powerful way to show our love.
Shared by: Margarita Tartakovsky, M.S., Contributing Blogger January 10, 2018

Tags: Archive, Clinicians on the Couch