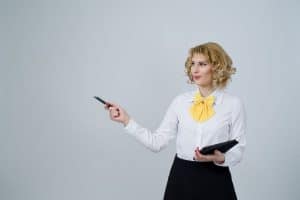 Jessie is a mom to three kids. She also has a portrait business and works from home. Navigating the needs of her kids and the needs of her business is not easy. For instance, she was editing a photoshoot with a fast-approaching deadline when her youngest started to cry. "I knew that if I gave him the bottle and I held him and I kissed him, it would be all right. But I had this deadline over my head, and for some reason I couldn't let it go. So I'm emailing the parent, and I'm trying to work…all the while feeling bad about myself and this choice. I'm not even sure why I made it. No one benefited in the end."
Jennifer Senior includes Jessie's story in her book All Joy and No Fun: The Paradox of Modern Parenthood. Whether your commute to work is a minute walk or an hour on the train, you likely can relate to the challenges of trying to thrive as a parent and as a professional. You likely can relate to the guilt. Oh, the guilt. The guilt that you're not doing it right. Any of it.
Teresa Hopke is a senior vice president of Life Meets Work, where she leads coaching programs for working parents. One of the biggest challenges her clients struggle with is self-judgement and not feeling good enough. Hopke is a mom to four kids (including a set of twin girls!). As a self-described recovering perfectionist, she used to have Post-It notes on her mirror, on her computer and inside her car that said: "It may not be perfect, but it will be good enough."
So often we strive for perfection in all areas of our lives, and we inevitably come up short. We feel like mediocre or terrible parents. We feel like mediocre or terrible workers. We feel like we're missing out.
When navigating work and parenting, there are no quick fixes or easy solutions. But there are strategies. There are tools and approaches you can incorporate into your days to simplify and enrich your life—like the below.
Reconsider your perspective.
There's a fantastic quote from Heather Peske in Brigid Schulte's book Overwhelmed: Work, Love, and Play When No One Has the Time, which speaks to the power of rethinking our perspective and asking ourselves the right questions—which may or may not look different for you. Peske is a mom to two daughters whose work includes frequent travel. She told Schulte:
"I don't describe my life as overwhelming. I see it as deeply rich and complex. I feel energized by the challenges I have to confront. I'm not being Pollyannaish and I'm definitely tired. There are compromises and tensions, but I like living that way. Balance is a simplistic formulation because my life is often not balanced. It tips in various directions at different times between my work, my kids, my partner, or myself. But I've found that rather than seek perfect balance, it's better for me to ask myself: Am I trying my best? Am I doing things for the right reasons? Do I make those I love feel loved? Am I happy? And then adjust as I go."
Identify your self-care non-negotiables.
What refreshes and rejuvenates you? What do you absolutely need to feel well, emotionally, physically, mentally? For Lori K. Mihalich-Levin, JD, a healthcare attorney and mom to two boys, sleep is paramount. "I now choose sleep over cleaning the house."
For Shawn Fink, founder of The Abundant Mama Project and mom to twin girls, it's taking time off from her roles as a parent and professional. Which she views as vital for everyone. "We think that we have to be one or the other and that means there's no time to be us." Fink stressed the importance of "taking time to nurture and connect with that person inside you."
Keep a running list of responsibilities.
"Being super organized is the only way I am effective," said Fink, a family wellness and work-life balance coach. This means keeping a running list of work tasks, which she adds to throughout the day. This way when she has 30 minutes or an hour to sit down at her computer, she can do rather than think about what needs to get done.
She also organizes tasks based on what she can do when her kids are home (and might interrupt her), and when she has quiet time to focus on creative work. Plus, before starting work, she makes sure to fill her kids' time buckets: spending at least 10 minutes focusing on them and their interests.
Be very intentional.
"Remember that every time you say yes to one thing, you are saying no to another, so make choices and tradeoffs wisely," Hopke said. "[E]very day we must be intentional and purposeful in how we spend every single minute of our day," Fink said. "As busy moms, we don't have time to waste and so if we're going to waste it let's make sure it's done really well—and serves a purpose that fills us up rather than depletes us."
What do you want to say yes to? What is really important to you? What can you decline or delegate or simply stop doing? What is necessary? What is not?
Simplify energy-sucking tasks.
Mihalich-Levin, also founder of MindfulReturn.com, and her husband have a "Saturday Basket" in their kitchen. They put everything in it from bills and forms to fill out to lists with items to order and meals for the week. As she writes, "Mundane, frequent, and annoying tasks seem to take up WAY less of my emotional energy when they go into the basket." Then every Saturday, after the kids are in bed, Mihalich-Levin and her husband take out the basket and tackle what's inside.
What responsibilities, errands or activities seem to suck the energy out of you? Brainstorm ways that you can simplify, streamline or make these activities more enjoyable—or at least less frustrating.
Be gentle with yourself.
"I think the willingness to be vulnerable and imperfect and human is the best way to navigate the challenges of being a working parent," Hopke said. "It's a hard gig—no bones about it." Which is why she stressed the importance of cutting ourselves some slack and admitting when we're struggling. Also, acknowledge and celebrate the days when everything seems to be clicking and you feel competent and confident, she added.
For Fink one of the biggest surprises of working and parenting has been how much more productive she is since becoming a mom. Mihalich-Levin, author of Back to Work After Baby: How to Plan and Navigate a Mindful Return from Maternity Leave, has found the same to be true for her. She noted that our society tends to ignore just "how much more effective parents are in the workplace because they are parents." But parents gain amazing skills, such as a laser focus on priorities, an ability to roll with the punches and an ability to deal with difficult clients, she said.
There are many challenges that come with working parenthood. As the above strategies illustrate, the key is to find what works for you. The key is to remember that you also matter. The key is to revisit your expectations. Today, Hopke tries to live by the motto on her tea mug: "Life does not have to be perfect to be wonderful."
Shared by: Margarita Tartakovsky, M.S., Contributing Blogger May 25, 2017

Tags: Archive, Clinicians on the Couch