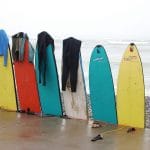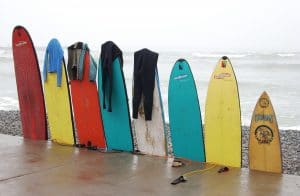 "You can't stop the waves from coming, but you can learn to surf."
–Swami Satchidinanda
Linda: I live in Santa Cruz, California, also known as Surf City. I frequently walk West Cliff beach and there are always large numbers of surfers in the water every day of the year, no matter what the weather. These surfers are such a dedicated group that they'll go out there when the waves are flat in hopes of periodically catching even a small ride. The surfing class students ride blue surfboards. These beginners spend many hours making their best effort just to simply stand up on their board. Then, there are many more hours dedicated to learning how to keep their balance once they are able to stand. They get thrown off their board many times, and they just get back up on that board again and again to start over.
Once they have some mastery in their basic skills, they often go to a different beach where the waves are bigger and the risk higher. They once again find themselves loosing their balance due to the more demanding conditions. And once again, they climb back up on their boards to make their best effort one more time and then again, one more time. I am inspired by their motivation, diligence, and determination. Riding a wave on a surfboard is not an easy sport. I've tried it and I know from first hand experience.
I get a kick out of the apt metaphor comparing surfing to learning to be masterful both in life and relationship. Life itself will keep bringing waves, and some of them will be of the big challenge type. We will either be thrown over or we can dedicate ourselves to learning how to stay balanced and upright more and more of the time.
Romantic relationships can, at times, feel like turbulent seas. The waves of emotion (resentment, anger, rage, fear, anxiety, jealousy, loneliness, guilt, shame, desire, lust, love, loneliness, remorse, regret, etc.) can be frequent and intense. Such emotions are like big waves coming at us. A part of us may long for the safety zone of dry land. We may fear that our very survival is at stake if we don't get back to the comfort of the solid beach. When emotions are running at their highest, we may be tempted to get out of the water and quit the sport all together.
Love, joy and happiness are not constant states. Love is changeable like the sea, quiet and serene some days, dark, stormy, and dangerous other days. We at times have differing needs; moods change; life changes occur; stress accumulates; and our partner unwittingly bangs into our sore spots followed by the sweetness of being seen and understood. We are challenged to stay present for all these shifting changes.
Just as when surfing, each time we stay present for the wave to take us for a ride, we grow more confident. As we practice surfing, the strength of our body-mind is growing and our skill level is increasing. It's the same when we practice managing the big feelings that romantic partnerships will inevitably evoke in us. With practice, we learn to stay on the board, to remain balanced enough to remain standing, and finally to enjoy the ride on the wave. Just as with learning to surf, with consistent practice, the relationship begins to go well. Then the joy, exuberance, peace of mind, and open-heartedness fills us with such ecstasy that we wouldn't dream of quitting.
Over time, with many repetitions, we learn to ride the feelings and not lose our balance. We learn about timing so that we know when to express what we feel and need in a way that is likely to be accepted and respected. We learn to negotiate for our needs and to deeply hear those of our partner. Before long, we have confidence that we have the skills we need to enjoy excitement and contentment in our partnership, riding the waves with such exquisite grace that it becomes our greatest pleasure.
______________________________________________________________________
Linda and Charlie Bloom are excited to announce the release of their third book, Happily Ever After . . . and 39 Other Myths about Love: Breaking Through to the Relationship of Your Dreams.
Praise for Happily Ever After: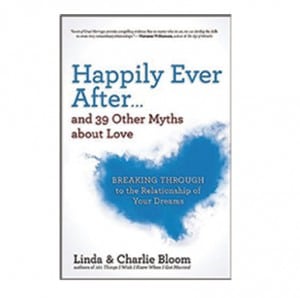 "Love experts Linda and Charlie shine a bright light, busting the most common myths about relationships. Using real-life examples, they skillfully, provide effective strategies and tools to create and grow a deeply loving and fulfilling long-term connection." – Arielle Ford, author of Turn You Mate into Your Soulmate
If you like what you read, click here to visit our website www.bloomwork.com and subscribe to receive our free inspirational newsletters.
Follow us on Facebook!
Shared by: Linda Bloom, LCSW, & Charlie Bloom, MSW, Contributing Bloggers February 1, 2017

Tags: Archive, relationship-skills