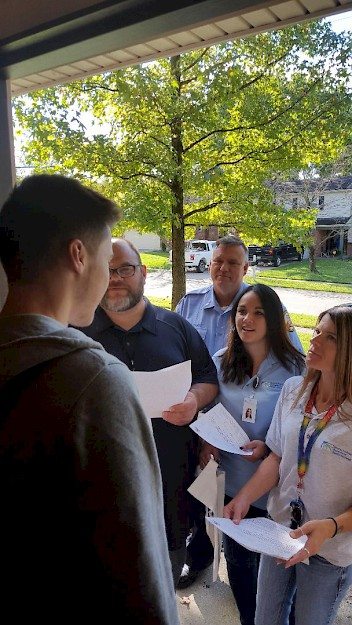 Clermont County's Quick Response Team – Bringing Help to the Client's Front Door
Unintentional overdoses have been the leading cause of accidental death in Ohio since 2007, according to the Ohio Highway Patrol.  Clermont County has one of the worst per-capita rates for opiate abuse in the state. The number of residents who are addicted to prescription pain pills and heroin in Clermont County has risen over 400 percent since 2007.
"Multiple and repeated overdose calls not only place a large burden on police and EMS services, they show an ineffective response to the epidemic" said Gregg Pieples, Director of Addiction Services for Greater Cincinnati Behavioral Health (GCB). "These hardest-hit communities needed a different approach to address the opiate and heroin crisis and to reach those individuals most in need." 
In January of 2017, Clermont County initiated a collaborative response to combat the drug addiction crisis that has crippled the region by launching a Quick Response Team (QRT) to connect people to treatment and prevent future overdoses. GCB's QRT effort is a part of the Addiction Department's Outreach Team. The QRT team consists of eight recovery coaches, all of whom have successfully completed training, peer support certification, and/or licensure.
The Funders' Response to the Heroin Epidemic (FRHE), operating from InterAct for Health, is a collaboration of private funders dedicated to ending the opiate epidemic. FRHE provided $100k over three years to grantees to initiate and continue efforts in this area.  Clermont County utilized their funding to collaborate with Union Township EMS/Fire Department and GCB's Clermont Recovery Center.  
"Our goal," says recovery coach and Team Lead Jessica Johnson, "is for our team, which consists of two recovery coaches accompanied by a medic or law enforcement officer, to offer support and connect individuals to treatment after an overdose." The team goes out every Monday in Union Township, starting the morning with a review of the most recent overdose survivors that were willing to invite the team to their residence. "The pre-assessment helps us to know what kind of a situation we're walking into, and how best to approach individuals," says Jessica.  The plan is to expand runs to Miami Township and Milford on Tuesdays as well as partner with the Clermont County Sheriff's Office on Thursdays.
QRT utilizes the 'recovery window' – the period of time shortly following an opioid overdose when people who are addicted are open to intervention. Although cold calls are often a part of the reality of the work, the majority of individuals seen  have  previously signed a release, indicating they would be open to a visit to discuss possible treatment options so there are no 'surprises.' "Our approach is non-threatening and non-judgmental," says Jessica.  
First responders who see the same clients multiple times often experience the frustration and hopelessness of the individual in active addiction.  QRT is working at the heart of that issue by reducing the number of repeat calls, hopefully alleviating their weariness – at least to some extent. "The first responders don't hear the success stories, the stories of life in recovery after multiple overdoses," says Gregg. "They don't know that they made a difference in that person's life. We are trying to change that with this collaboration."
Their influential power and ability to put clients at ease may have something to do with the fact that all of the coaches are all in recovery themselves.  "We share our journey to healing, and what that process has looked like for us," says QRT lead and recovery coach Kristy Mudd. "That connection comes from hearing it from someone, much like themselves, who is successful making it down that path. When it resonates, it's transformative." 
There are many resources available to the clients, depending on their needs.  The team can help with navigating the system, as well as offer help with coordinating access to food, shelter, clothing, detox programs as well as residential treatment or outpatient services.  But just as important is their offer of encouragement and emotional support. "If they are scared to go to a 12-step meeting alone," says Kristy, "we will go with them. The client will have however many opportunities they need to become motivated and engage in services.  Our team is committed to ensuring the individual does not feel alone." 
The team offers the same level of support to the client's families, as many family members have been traumatized by living through their loved one's addiction. In one instance, the team was able to split up, with Jessica talking one-on-one to the client, and Kristy talking to the family in the other room about services available for their support. The very next day, the client had an assessment and a treatment plan which started with detox.
If the client isn't at home, or refuses to answer the door, the team will leave materials and continue checking back.  If possible, the team will talk with family members who may be at the residence in order to continue attempting to engage the client.
"This initiative," says Pieples, "is moving our front door to the community. By meeting them where they are, we are allowing new touch points to active users as well as reaching the non-traditional individual who wouldn't make it into treatment on their own." 
Lee Ann Watson, Associate Director for the Clermont County Mental Health and Recovery Board, is hoping to extend QRT services throughout the county.  "I recently worked with the Sheriff's Office and Miami Township Police Department to submit grants for each to fund QRT in their respective jurisdictions," she says.  "But we need more funding for positions to make that happen." Since this interview occurred, both of these parties have established QRT's which begin in October of 2017.  The uniqueness of the new teams will incorporate law enforcement as opposed to only EMS/Fire Departments, which had originally been done in Union Township.
"We are very excited to collaborate with law enforcement as well as medics in our QRT initiatives," says Jessica. "This will allow us to reach individuals that we were not able to reach if they refused to sign a HIPPA release form since law enforcement encounters are public record."    
If the client declines the help, he/she does so knowing that the door is always open – and they now have a link to a possible lifeline that may not have existed before. "We'll never pressure someone into services," says Kristy.  "But once you're at least willing to take the first baby step, there's nothing we won't do to get you on that path to recovery." 

Shared by: Greater Cincinnati Behavioral Health Services January 25, 2018

Tags: Archive