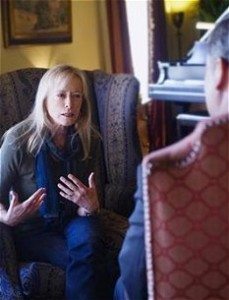 Our monthly series delves into the personal and professional lives of clinicians from all over the U.S. Therapists reveal everything from the trials and triumphs of conducting therapy to their career path and coping strategies.
This month we're pleased to present our interview with Linda Hatch, Ph.D, a clinical psychologist who pens the popular blog "The Impact of Sex Addiction" on Psych Central. Hatch is a certified sex addiction therapist in private practice in Santa Barbara, Calif. There, she specializes in treating sex addicts and sex offenders, along with their partners and families.
Throughout her career, Hatch has worked with both adult and juvenile sex offenders, mentally disordered offenders and sexually violent predators in and outside of the courts and prison system. She also has consulted with the Superior Court, the Probation Department, the Board of Prison Terms, and the State Department of Mental Health, providing forensic assessment and expert testimony.
Hatch is the author of the book Living with a Sex Addict: The Basics from Crisis to Recovery. You can learn more about Linda Hatch at www.sexaddictionscounseling.com, where she also blogs about sex addiction.
1. What's surprised you the most about being a therapist?

I guess it's that after the 40 or so years I've been a clinical psychologist I continue to find it endlessly interesting. It is as though the work and I have gone through many changes over time and I have evolved along with those changes. I have done so many different things: teaching, research, student counseling, child psychology, crisis intervention and forensic psychology.
In the last five years I have gained a whole new specialty in sex addiction, which has revitalized my professional life yet again. I had wanted to be a therapist from a young age but I did not know how much my work as a therapist, and lately as a writer, would be continuously intertwined with my own emotional growth.
2. What's the latest and greatest book you've read related to mental health, psychology or psychotherapy?

I recently read Chemical Dependency and Intimacy Dysfunction edited by Eli Coleman PhD. It's a superb collection of articles about every aspect of the relationship between chemical dependency and human sexuality. What interests me so much about it is that it is, in part, a foundational attempt to look at common roots of chemical dependency and sex as a drug of abuse in terms of family dysfunction.
The book is truly comprehensive and holds up extremely well, dealing with every possible aspect of addiction and relationships including attachment issues, addiction interaction, codependency, boundaries, communication, shame and so on.
3. What's the biggest myth about therapy?

I think people are sometimes too trusting of clinicians simply because the clinician has the right credentials. Therapy is a craft and not everyone is equally good at it because they had the same training. Also, not every therapist is right for every patient.
Patients need to be empowered to judge for themselves whether a therapist is someone they have confidence in. This is hard because therapy clients are usually grappling with some emotionally difficult problems and often tend to be less critical and more trusting than they would otherwise be.
4. What seems to be the biggest obstacle for clients in therapy?

For addicts it is fear—fear of the therapy relationship itself, of being open and vulnerable with another person. Addicts often have early attachment problems, which make them mistrustful of letting anyone know them. It can be an extremely uncomfortable situation for many clients.
5. What's the most challenging part about being a therapist?

In treating sex addicts it is the fact that it is often very hard for the client to establish and/or maintain abstinence from their particular addictive acting out behavior. As a sex addiction therapist, I am torn between imposing a task oriented treatment protocol that we know works, while still allowing for the fact that everyone does recovery in their own way and in their own time.
Clients need a lot of support and structure to do what they need to do but also permission to do things in the way that they are capable of doing them given their unique set of strengths and obstacles.
6. What do you love about being a therapist?

I love that therapy has a lot in common with mindfulness practice. It involves being present, being authentic and using all parts of my mind and intuition. I love that therapy is a process that can never be completely duplicated by having the client read a book. In psychology the problems are relational in origin and ultimately relational in the recovery process.
7. What's the best advice you can offer to readers on leading a meaningful life?

For me meaning comes out of the struggle to overcome suffering and liberate ourselves from obstacles to fulfillment. Meaning comes as we successfully navigate the challenges of each life passage. And ultimately meaning comes from bringing our knowledge and ideas to others. We cannot do everything we dream of doing but we can do the things that we can do; we can use our gifts.
8. If you had your schooling and career choice to do all over again, would you choose the same professional path? If not, what would you do differently and why?

I feel like I was destined to be a clinical psychologist. I have always been fascinated by the human mind—I think I inherited this from my parents. I was raised on Jung, Freud, Perls and other early therapists. I majored in philosophy as an undergraduate and found out later that I have an uncle who is a philosophy professor.
Much later after becoming a psychologist, I connected with another uncle whom I had never met only to find out he was a clinical psychologist! If I were starting out today I think I would be drawn to neuropsychology to a greater extent, as that seems to be the new frontier at this point in history.
9. If there's one thing you wished your clients or patients knew about treatment or mental illness, what would it be?

I think clients don't realize how much change is possible from even the smallest shifts in awareness. Therapy is often in the very subtle changes in perception, which allow for big changes in functioning and self-concept. A little change makes a big difference.
10. What personally do you do to cope with stress in your life?

I am fortunate to have a very low stress life right now. I believe that being in recovery myself has made all the difference, but also luck. I do what I enjoy, I am happily married, live in abundance and have meaningful relationships. Being very mildly cyclothymic myself (it runs in my family), I need to keep my everyday life balanced and grounded. Spiritual reading and meditation helps in this.
Shared by: Margarita Tartakovsky, M.S., Contributing Blogger March 5, 2017

Tags: Archive, Clinicians on the Couch