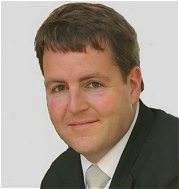 Every month we chat with one clinician about everything from the trials and triumphs of being a therapist to his or her advice for leading a meaningful life.
This month we had the pleasure of talking to Ryan Howes, Ph.D., ABPP, a board-certified, licensed clinical psychologist practicing in Pasadena, California.
Howes also is a clinical professor and supervisor at Fuller Graduate School of Psychology. He is a contributing editor for the Psychotherapy Networker Magazine and he's blogged for Psychology Today since 2008.
His blog, In Therapy: A User's Guide to Psychotherapy, was named a Top 10 Psychoanalysis Blog by Blogs.com. He is on a personal mission to demystify therapy and empower clients to get the most out of their time, money and effort.
You can learn more about Howes at his website and Facebook page.
1. What's surprised you the most about being a therapist?
This job is full of surprises. I laugh more with my clients than I ever thought I would. Many therapist "mistakes" actually improve the treatment. Silence is sometimes the best intervention. I'm not really my own boss, I have 30 bosses. I've seen about a hundred different techniques to wipe tears with a Kleenex. The most surprising is, I've been doing therapy since the '90s and I've never had a boring day.
2. What's the latest and greatest book you've read related to mental health, psychology or psychotherapy?
Every year I assign Irvin Yalom's The Gift of Therapy to my graduate students. His warmth and wisdom shows his profound understanding of therapy from both chairs. But I'm currently reading David Wallin's outstanding Attachment in Psychotherapy, which may find its way into the syllabus.
3. What's the biggest myth about therapy?
We like to talk about the classic stigma: Therapy is for crazy people. Fortunately, research is showing that we're beginning to move beyond that stereotype. So many "normal" people (as well as celebrities and fictional characters) have been to therapy that looking for help is not as shameful as it once was.
But the popular media has created a new myth: Therapists are lunatics who are so messed up they can't help anyone else. Therapists now have the public image problem. I'd like to do something about that.
4. What seems to be the biggest obstacle for clients in therapy?
My profession has done a poor job of providing a coherent, consistent explanation of what therapy is, how it works and what is the client's role in the process. As a result, well-intentioned clients spend valuable time and money learning about the process of therapy when they could be focused on resolving their issues. Many people quit therapy frustrated because they never learned how to make the most of it.
5. What's the most challenging part about being a therapist?
When friends or family ask the harmless question "How was your day?" I have a legal requirement to censor my answer. I completely agree with the need for confidentiality in this field, but it contributes to the isolation experienced by many therapists. It's ironic that we spend all day talking with people on a deep level but need to consciously fight isolation.
6. What do you love about being a therapist?
We're on sacred ground when a client says: "I've never told anyone this before, but…" We're striking a balance between trust and risk and we're about to have a breakthrough. Actually, I enjoy any time I see positive change happening. Like the compliant, conflict-avoidant client who suddenly feels safe enough to confront me. Or the emotionally detached client who lets his anger or sadness show. Or when our hunch about something proves true or leads to a deeper insight. The time and effort is validated any time our collaboration creates a lasting change.
7. What's the best advice you can offer to readers on leading a meaningful life?
Know thy stuff. Ignorance may be bliss, but a meaningful life requires exploring and accepting your strengths and limitations, as challenging as that may be.
8. If you had your schooling and career choice to do all over again, would you choose the same professional path? If not, what would you do differently and why?
Being a psychologist allows me to do nearly everything I enjoy. My clients invite me on a journey to explore amazing, always-unique subject matter. I also get to moonlight as an extroverted professor and introverted writer. I wouldn't change a thing.
But occasionally I daydream about jobs that had immediate and visible results, like the summer job I had mowing grass on a golf course. It was a beautiful setting and my riding mower did most of the work. It was a great way to earn my minimum wage (plus free golf!).
9. If there's one thing you wished your clients knew about treatment, what would it be?
Therapy is kind of like going to a personal trainer. The two of you develop goals and a plan of action, the professional guides and supports, and you do the heavy lifting to reap the benefits. The work might be in the form of journaling, reading books, bringing up uncomfortable material, or taking a risk to trust. Unfortunately, some clients approach therapy more like surgery. They plan to sit passively while the therapist does therapy to them. This leaves both parties frustrated.
10. What personally do you do to cope with stress in your life?
I'm a firm believer in therapy for therapists, so I'll be in treatment as long as I'm seeing clients. I also avoid taking work home with me. I try to keep non-psychology hobbies and keep in touch with non-therapist friendships. I stay actively involved in my kids' lives, I play music, run, cook and write — even though I usually write about therapy!
Shared by: Margarita Tartakovsky, M.S., Contributing Blogger March 3, 2017

Tags: Archive, Clinicians on the Couch