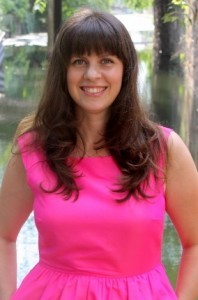 In our monthly interview series we ask clinicians to do something they rarely do at work: talk about themselves. We ask them to reveal everything from the trials and triumphs of conducting therapy to how they personally cope with stress.
This month we're pleased to feature Amy Tatsumi, MA, LPC, ATR-BC, a psychotherapist, art therapist and a certified Daring Way Facilitator/Consultant. Tatsumi works with women, men and teens who are worried, stressed, alone, depressed, disconnected, or stuck in their relationships, careers, and lives.
She helps clients reconnect with the people and parts of their lives that matter most in healthy, meaningful and authentic ways. She offers a wide variety of treatment modalities, such as art making, sandplay and mind-body work to support clients in getting unstuck.
Learn more about Tatsumi and her work at her website .
1. What's surprised you the most about being a therapist?
I am continually in awe of the work that clients do in therapy. It feels like an honor to be a part of a client's process, and I am grateful to be able to witness their transformation over time.
2. What's the latest and greatest book you've read related to mental health, psychology or psychotherapy?
Daring Greatly: How the Courage to Be Vulnerable Transforms the Way We Live, Love, Parent and Lead by Brené Brown, Ph.D., LMSW. Brené is the founder and Chief Learning and Research Officer of The Daring Way — a training and certification program for helping professionals who want to facilitate her work on vulnerability, courage, shame, and worthiness.
I am a Certified Daring Way Facilitator/Consultant, and her research and the program have changed my life personally and professionally. In my private practice, I integrate it in work with individual and group psychotherapy clients, as well as with supervision and consultation clients.
3. What's the biggest myth about therapy?
In my experience, the biggest myth is: Coming to therapy/getting help is a sign of weakness. Asking for help and committing to one's own therapy process takes courage for many clients. Each time a new potential client reaches out and connects with me, I am struck by their ability to bravely step into vulnerability by asking for help and support.
This feels especially big to me because clients usually feel anything but courage when it comes to asking for help. As a therapist, I am continually honored to be able to accompany clients on their brave journey to understand and work through their strengths, struggles, and story.
4. What seems to be the biggest obstacle for clients in therapy?
The majority of clients I see feel that they are alone in their struggles or in their story. They may be able to apply strategies and tools for managing symptoms from individual therapy, but they continue to feel disconnected from themselves and others. This disconnection and aloneness often keeps clients stuck.
Within individual therapy, a therapist can meet a client where he or she is with their feelings, struggles, or story of disconnection. However, it can be challenging for a client to believe they are not alone. I find group work to be one of the most powerful platforms for clients' individual work to become unstuck and feel more connected to themselves and others.
The group offers a space to know that each of us has strengths and struggles and a story. I consistently receive feedback from groups that coming into the group they felt like they were the only one who struggled and felt that everyone else had life figured out.
By the end of the group, members report knowing: They are not alone. They have a new perspective about their shared humanness and a reinvigorated dedication to further unpacking this work in individual therapy and practicing connection in their daily lives.
5. What's the most challenging part about being a therapist?
For me, it is practicing aligning my values with my work/life balance. This is a focus area of client work, and it is important for me to hold integrity to the work. I believe that I am "walking my talk" by making space for the personal and professional.
This sometimes looks like midcourse corrections in order to recalibrate to be able to live out my values. Stepping into a new flow can feel anything but comfortable at first, but trusting the process allows me to ease into knowing that I'm aligning my decisions with my values. Being anchored in my values allows me to be more flexible and ride life's waves of ups and downs as they come.
Shared by: Margarita Tartakovsky, M.S., Contributing Blogger January 18, 2014

Tags: Archive