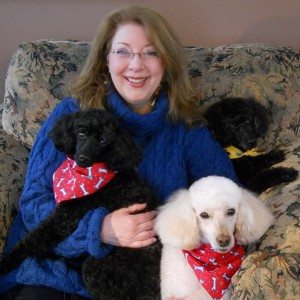 In our monthly series, we switch roles and put clinicians on the proverbial couch to get a glimpse into their professional and personal lives.
We ask them about everything from the trials and triumphs of conducting therapy to how they cope with stress. They also share their thoughts on the one thing they wish their clients knew along with their insights into living a meaningful life.
This month we're pleased to interview Kathy Morelli, a licensed professional counselor in Wayne, New Jersey. Morelli runs the website BirthTouch® . She is an expert in the field of pregnancy and postpartum mental health and has maintained a perinatal childbirth-based practice for more than thirty years.
In her private practice , Morelli provides marriage and family counseling with a focus on maternal mental health, family systems and trauma. She combines traditional talk therapy with effective mind-body therapies, such as EMDR, Expressive Art and Integrative Guided Imagery® to address personal healing on multiple levels.
She's also the author of three books: BirthTouch® Shiatsu & Acupressure for the Childbearing Year, BirthTouch® Healing for Parents in the NICU and the BirthTouch® Pocket Guide to Perinatal Mental Illness for Childbirth Educators & Moms.
1. What's surprised you the most about being a therapist?
I've worked as a family counselor in several intense clinical settings, including a facility for the severely mentally ill and in a cancer center. What's humbling to me is how people entrust me with their closest, most sacred and deeply held personal and emotional lives. I've had the profound privilege of witnessing dignity, wisdom, beauty, endurance, courage and peaceful acceptance in the face of incredible physical and emotional pain. The trust that is accorded to me from my wonderful clients continually surprises and humbles me.
2. What's the latest and greatest book you've read related to mental health, psychology or psychotherapy?
As many of Psych Central's audience, I'm a seeker of knowledge and love to read! There are so many wonderful books filled with evidence-based wisdom about emotional and mental health and not enough time to read them! I'm always reading several books at a time.
Plus, on a daily basis, I refer back to many clinical works and research articles. One of the books I'm reading right now is Dr. John Gottman's The Science of Trust, which is, of course, impeccably researched and contains a wealth of practical, evidence-based information about the art and science of lasting love. I'm trained in Gottman couples therapy. I love the dual focus of the work: evidence-based practical skills plus keeping an eye on the underlying psychodynamic/emotional aspects of couples work.
I'm also reading The Object of My Affection is in My Reflection: Coping with Narcissists by Rokelle Lerner, a therapist in private practice who helps partners of narcissists. Narcissism is an interesting and difficult dynamic to treat. The person suffering from narcissism often comes into the office as a part of a pair.
The relationship with a narcissist as one half of a couple is filled with suffering, confusion and can feel like an emotional roller-coaster. The narcissist is adept at presenting him- or herself in one way, but then later reveals the more problematic and difficult parts of him- or herself as the relationship progresses, after the partner becomes more emotionally invested and it's harder to exit. There's good information in this book about a condition that feels elusive and difficult to understand.
Three books I highly recommend by people who have thrived in the face of tough mental illness are:
A River of Forgetting: A Memoir of Surviving Sexual Abuse by Jane Rowan, a lyrical memoir of healing from childhood sexual abuse via talk therapy and expressive movement and art.
In the Shadow of a Badge: A Memoir of Flight 93, a Field of Angels and My Spiritual Homecoming by Lillie Leonardi, a riveting description of what PTSD and recovery looks like in a first responder who was among the first on the scene of Flight 93 on 9/11.
Dancing on the Edge of Sanity by Ana Clare Rouds, a description of survival and recovery from severe postpartum anxiety and depression, and her experience inside our failing mental health care system.
3. What's the biggest myth about therapy?
Love this question! The greatest myth about therapy is that there's a "magic and quick five step process" or "type" of therapy that will bring a quick fix to your situation. These types of claims do a great disservice to people in need of mental and emotional help.
In fact, what works in therapy has been extensively studied. Over fifty years of research shows that it is NOT the TYPE of therapy that provides the conduit for emotional growth and healing.
In fact, research shows that client traits are the first factor that influences the success of therapeutic outcome and the second factor is the trust that the client puts in the therapist, as part of the strength of their unique and personal therapeutic relationship. Of course, the therapist needs to be trained properly.
However, research shows there is no one type of therapy that has a greater success rate then another. So there are many paths to healing and emotional health, but there is no getting around doing the hard emotional work.
If you're curious, the research about what works in therapy can be found in the book The Heart and Soul of Change: What Works in Therapy by Drs. Barry Duncan, Scott Miller, Bruce Wampold and Mark Hubble.
4. What seems to be the biggest obstacle for clients in therapy?
I think the biggest obstacle I've come across in my work is that clients don't have an appreciation for the importance of good emotional and mental health and the real commitment of time and effort it actually takes to achieve this balance or feeling in their lives. I see this dynamic at an individual level and at a societal level.
At an individual level, people are uneducated about, for example, how deeply ingrained and damaging certain emotional and psychological complexes are to the body and mind.
A person's whole personality structure changes if they've experienced childhood sexual abuse, an addiction or dependency to substances (alcohol, marijuana, etc.) or behaviors (pornography, shopping) or exposure to other traumatic material.
After a lifetime of abuse and trauma or addiction, the process of the rebuilding and strengthening the self takes years, not months. I would say that healing from abuse/trauma/addiction is an honorable, lifelong healing path.
At a societal level, our society advertises fast and easy solutions to everything. Honestly, this isn't a valid approach to take regarding your emotional and mental health. The American mental health network is non-existent and was consciously dismantled in the 1980's.
We feel the effects of the lack of mental health care for the most vulnerable every day, in the number of homeless people, the drug addiction rate, the worldwide depression rate and the incredible burden placed on the families of the severely mentally ill.
If you haven't read Dr. E. Fuller Torrey's book American Psychosis, you don't understand the dire situation the mental health care system is in the U.S. and really can't have an informed opinion about this situation. Read it.
Another book that graphically illustrates the cost of our failing mental health system is Kathy Brandt and Max Maddox's book, Walks on the Margins. It's a mother and son story about their journey through Max's bipolar disorder and the horrific lack of care and abuse that exists in the mental health system.
Would we put up with lack of care in a cancer center? Or having cancer centers non-existent? Why do we put up with this in mental health care?
5. What's the most challenging part about being a therapist?
For me, the most challenging part about being a therapist is when a client decides not to invest the time in him- or herself for healing something I know can be helped or treated.
It's so sad to me that people back away from examining their lives and the ingrained emotional patterns that prevent them from living up to their potential. There is help and treatment available.
My wish would be for people to take their emotional pain seriously and pursue treatment with a trained mental health professional. We are healthcare providers. We are covered under your health insurance. Use the insurance for which you already pay, and give yourself the gift of emotional and personal growth.
6. What do you love about being a therapist?
I love being in a profession that is always challenging and different every day. It's a demanding profession that requires constant personal and professional growth and education, and I'm a proud nerd so I consider this fun!
I'm honored to be in a position of trust in the community. I am humbled and blessed every day to be able to work and help others in my work at the same time.
7. What's the best advice you can offer to readers on leading a meaningful life?
To answer this question I'd like to use a quote credited to both Plato and Socrates:
"The overly examined life has not been lived and the unexamined life is not worth living."
I think that someone who leads an unexamined life is reacting to events from feelings that are hidden from his or her awareness. To lead an examined life is to do the emotional work to reach a high level of self-awareness and pull yourself out of the painful emotions of blame, guilt and anger.
Self–awareness leads to emotional balance and a deeper understanding of the people around you, [and] thus frees you to live with more love and equanimity. Seeking out insight-oriented modalities such as psychotherapy and other inner exploratory work increases one's self-awareness and self-worth.
To live your life without reflection and self-growth is to live with unexplained emotional reactivity and rejection of the self and others. Taking time to reflect on your actions and choices will create deeper meaning and is a sign of developing emotional complexity and emotional and mental health.
Do your emotional work, it's not easy, but you're worth it!
8. If you had your schooling and career choice to do all over again, would you choose the same professional path? If not, what would you do differently and why?
Yes, I would absolutely again pursue psychotherapy. I love the work and my clients. I also love my writing, speaking and consultation career!
9. If there's one thing you wished your clients or patients knew about treatment or mental illness, what would it be?
I would love to convey to people that yes, you can heal from mental illness. Talk therapy, lifestyle management and medication are all ways to treat and manage mental illness.
As with any other illness, mental illness exists on a spectrum of treatment and cure.
Some mental illnesses or patterns can be completely cured with awareness and some tweaking of lifestyle. Others need more active management with a combination of talk therapy and assertive lifestyle changes.
And yet other mental illnesses must be managed either short-term or long-term with medication, talk therapy and lifestyle changes.
But treatment is available. Practice self-care, get help, [and] don't be ashamed.
10. What personally do you do to cope with stress in your life?
Over the years, I've developed many ways to cope with stress and to be emotionally intelligent. Here's a short list!
I consciously practice mindfulness and gratitude for every day and for my family, friends and work.
I accept that my emotions are normal. Emotions come and go and don't change my core self. I allow myself to experience my strong emotions, such as anger, sadness and anxiety and [not judging] myself for having the emotions. They come and go, they pass.
I've learned that transitional times are stressful and painful. I've learned to be patient with myself and to allow myself time to adapt and grow.
I live from my authentic self.
If I need help sorting out my thoughts and emotions, I reach out and talk to my close friends and family.
If I need more help than my family and friends can give, I touch base with my own trusted therapist.
I enjoy my family and friends on a daily basis.
I participate in scheduled educational retreats, such as the Postpartum Support International Conference at the University of Chapel Hill in North Carolina this year.
I keep in touch with the transcendent and spiritual aspects of myself.
I keep up my happiness and curiosity about the larger world and its wonders.
I take at least one real vacation a year that feeds my spirit. I love both sight-seeing vacations and nature appreciative vacation spots, where I can kayak or ski with my family.
I love complementary therapies and I use them every day in my practice, so on my daily to-do list I reach for different things as needed: Walking one to three of my miniature poodles; gardening; receiving bodywork (massage, shiatsu, acupressure, Reiki); writing; expressive art (collaging and art journaling are my favorite modalities); exercising in many forms, such as walking, daily qi gong, and weight lifting; mindful, meditative mini-breaks all day; studying, creating and using herbal and aromatherapeutic blends; and cooking.
Shared by: Margarita Tartakovsky, M.S., Contributing Blogger March 5, 2017

Tags: Archive, Clinicians on the Couch