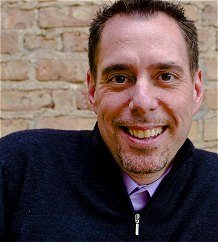 Every month we interview a different clinician about everything from practicing therapy to leading a meaningful life. This month we had the pleasure of talking to Jeffrey Sumber, MA, a psychotherapist, marriage counselor and life coach.
Below, Sumber reveals what's surprised him the most about being a therapist and the challenge of balancing burnout with making a difference. He shares the importance of shifting our paradigms, discovering our own definitions of meaning and much more.
Sumber also teaches sociology and psychology at National-Louis University and joyfully serves as a non-denominational wedding officiant on behalf of his company, Celebrate Love Chicago!
You can learn more about Sumber's coaching at The Mindful Prepper , which he describes as "mindfulness coaching and preparing the Self for whatever life throws at us." And you can find additional information about Sumber and his work at his main website .
1. What's surprised you the most about being a therapist?

I have never really gotten used to the intensity of impact I have on clients over the course of treatment. While it is inevitable that my comfort level, trust and relaxation increases over time in the therapeutic relationship, it is forever humbling to find that even the simplest, off-the-cuff statements in a session can be taken in unintended ways. Even those "chance" interactions with clients in public places have an impact and will likely lead to process in the therapy office. Being a therapist has impacted my behavior in public, the choices I make on social networking sites and even the level of political activism I choose. I still haven't gotten used to that.
2. What's the latest and greatest book you've read related to mental health, psychology or psychotherapy?

When I was in high school, I applied to Harvard for my undergraduate experience and one of the questions my interviewer asked me was to please list the last 5 books I had read that month. My face turned pale and I ended up walking away with a pit in my stomach, not even to apply (until I went to graduate school). I have been listening to a series of tapes by Tony Robbins and his work with couples called "Get the Edge." I prefer listening and watching than reading.
3. What's the biggest myth about therapy?

The biggest myth about therapy is that it is now mainstream. While there are far more people exposed to and participating in therapy today than ever before, it is simply not true that being in treatment does not carry with it some level of stigma or projection for clients, their families, friends and acquaintances. Whether it is secrecy from work, fear of insurance claims affecting future jobs, or even simply a new relationship and the concern over sharing "too much" about what that weekly appointment is all about, I do not believe that we are "there" yet as a society when it comes to mental health as a spectrum, not an either/or.
4. What seems to be the biggest obstacle for clients in therapy?

I find that many clients struggle with the notion of paradigm shift. While learning more effective modes of communication as well as strategies for choosing more supportive actions are essential to the success of counseling, I find that the ideological shift from one belief system to another is the most formidable challenge. Many people believe they can impact their lives in a long term, sustainable manner simply by changing their behaviors and I simply do not believe this to be the case. Unless we rethink the soil in which we are planting new seeds, we can expect only limited change into the future. Oftentimes it is the acknowledgment of an old paradigm breeding destructive patterns that serves as the greatest opening for a client and from this place, I work with individuals to envision a new worldview that opens the door for new ways of thinking, feeling and creating their lives.
5. What's the most challenging part about being a therapist?

The most challenging part of being a therapist for me is tempering my desire to make a difference and help clients change their lives with the slippery slope of burnout and self-care. The inevitable biorhythm of private practice and its ebb and flow of steady, sustainable client hours tends to prod us toward taking on more sessions in a week than is probably healthy and yet the consequences of maintaining a waiting list or turning folks away is that they will likely move on. Identifying the maximum number of reasonable hours in session per week and then STICKING to that number is an ongoing challenge for me and is a direct factor in the process of burnout.
6. What do you love about being a therapist?

I love so much about being a therapist! I can't believe how lucky I am to have found a path in life that is in absolute alignment with my values, outlook on the world as well as my desire to make enough income to live comfortably without being excessive. Life as a therapist is a life in relationship to balance for me, and I am ever engaged in that process toward balance whether it be between work/personal life, professional/social, practical/spiritual, time/energy, etc. Loving what I do, doing what I love is the greatest example to clients who struggle with being dissatisfied with their jobs.
7. What's the best advice you can offer to readers on leading a meaningful life?

Wow. For starters, uncovering one's own definition of meaning is a great launching pad. Asking "who" instead of "what" or "how" tends to orient the process in a solid way and from there, when we know who we are asking the questions, we can start to explore what we want and what we're willing to do about that. For myself, moving through an old pattern of projecting the reasons why I can't be at peace or in joy onto others was a tremendous piece of personal work without which I do not believe I would have created a meaningful life. Taking full responsibility for every moment in my day from first dawn to lights out has been instrumental in embracing my life as I manifest it. I find the old recording of "I can't" or "I don't know" to be just downright tiresome. Remove it from your vocabulary and things begin to shift.
8. If you had your schooling and career choice to do all over again, would you choose the same professional path? If not, what would you do differently and why?

Yes. My focus on international relations and political philosophy in college helped me understand the world in ways that have added much to my work as well as the years studying religion prior to my degree in psychology. I am grateful for degrees in non-psychological pursuits rather than a Ph.D because I feel it has given me a unique approach to this field and allows me to approach counseling from a somewhat different angle than many of my peers.
9. If there's one thing you wished your clients or patients knew about treatment or mental illness, what would it be?

That only insurance companies believe that deep, penetrating shifts in the way we understand ourselves happens in a few months. "We are not water heaters" as my analyst told me the first day I sat before him long ago.
10. What personally do you do to cope with stress in your life?

Every morning when I shut the water off in my shower, I stand quietly, shrouded in my towel, and breathe deeply. No ritual, no religious significance, no laws of attracting this or that: I just breathe and feel my Self. Until my wife says, "Are you doing your breathing thing?"
Shared by: Margarita Tartakovsky, M.S., Contributing Blogger March 3, 2017

Tags: Archive, Clinicians on the Couch