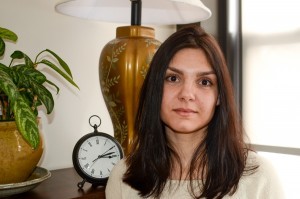 Every month we interview a different clinician about everything from what it's like to conduct therapy to how they cope with stress. We also ask them to reveal the biggest myths about therapy, the biggest obstacles for clients and if they'd choose the same professional path all over again — among other eye-opening insights.
This month we're happy to feature a new blogger to Psych Central. Mihaela "Misha" Bernard, MA, LCPC, is a licensed clinical professional counselor and founder of Inside Family Counseling in Chicago. She pens the already popular blog "Practical Psychoanalysis."
Bernard specializes in psychoanalytic psychotherapy for kids and adolescents who face behavioral and emotional challenges at home and at school. Her mission is to empower, support and guide children, adolescents and their parents to a happy and healthy family.
She is the author of "Mental Health Digest" electronic magazine. It's a free, easy-to-read resource on common mental health issues affecting you and your family, plus some suggestions on how to address them.
She also pens a "Parenting Blog" with helpful resources and practical tips on supporting kids and teens' behavioral and emotional development.
Aside from being a therapist, Bernard enjoys traveling and spending time with her family, painting and the outdoors.
1. What's surprised you the most about being a therapist?
How much there is to learn and to know about people. Being a therapist is like being in school for life and your teachers are your clients.
2. What's the latest and greatest book you've read related to mental health, psychology or psychotherapy?
It is not the latest, but certainly one of my favorite books about psychotherapy is A Shining Affliction: A Story of Harm and Healing in Psychotherapy by Annie Rogers. It's hard to put into words the experience of reading this book: It touches on how being in training and treating trauma impacts us as therapists; it touches on the power of play therapy; on the different manifestations of trauma and on having a positive versus a negative experience in psychotherapy.
As I said, words fall short in capturing the value of the book. I've had the pleasure of meeting Annie Rogers on several occasions and to listen to her present during clinical meetings in Chicago and in Quebec, and I highly recommend her books to anyone interested in learning more about trauma, psychosis and psychoanalysis.
Another book about psychotherapy I would recommend is Irving Yalom's Love's Executioner. It's the kind of book that I take with me on vacation and read for pleasure before bedtime. It's educational yet fictional in a way that allows for the boundaries between what really happens in therapy and fantasy to get blurred. Besides, I love Yalom's books and his existential approach to psychotherapy and life as a whole. His books can be quite uplifting.
3. What's the biggest myth about therapy?
That the therapist is going to tell you what to do. We have enough people in our lives telling us what to do, how to do it and when to do it by, we don't need another one. In fact, it has been my experience that when you tell people what to do, they often don't do it.
Therapy is a place where you can truly be yourself with all of your pluses and minuses, and be unconditionally and utterly accepted with no judgment and no "to-do" lists. At least the therapy that I do.
This isn't to say that I don't give feedback and I don't guide my clients (which is especially important when working with children and adolescents and their parents), but therapy is about discovering your own way, not following someone else's.
4. What seems to be the biggest obstacle for clients in therapy?
It's hard to say what the biggest obstacle is for clients because everyone is different and people struggle with different things in therapy. What may come easily for some is really difficult for others.
Personally, the biggest obstacle for me was talking about my feelings, accepting them and allowing myself to experience them in the presence of another. I have some clients, both adults and children, who struggle with the same thing and it can be quite challenging to allow yourself to be vulnerable, especially in a relationship (with a therapist).
Yet, once you are able to do it, there is a sense of freedom and acceptance of yourself for who you are as an emotional being, which can be quite liberating for people.
5. What's the most challenging part about being a therapist?
The most challenging part is listening to people's pain and reliving it with them. There are days when I walk out of a difficult therapy session and I feel horrible… I wish it wasn't like that but it comes with the territory; life is difficult, people go through difficult experiences and part of overcoming them is sharing and reliving them with someone else.
This is especially difficult when working with children and adolescents, who are in less than desirable circumstances or who are at risk for their safety. Then again, that's why I do what I do, because having someone to share your experiences with and be accepted with no judgment or hesitation, makes all the difference in the world.
6. What do you love about being a therapist?
When I was a little girl, I used to walk down the main walking street in my hometown, Burgas in Bulgaria, watching people pass by and wondering about their life stories. I was fascinated with the idea that each and every one of them had a life of their own, much like my own but unique and different, and I wanted to learn about them and get to know them.
Today, having the privilege and honor to be invited into people's intimate lives, to be a part of their journey and to build relationships with them is what I love most about being a therapist.
Especially when I work with kids, adolescents and their families: I love that I can be a part of their world and that I can contribute to their mental health and psychological development. And of course, being able to help people feel better about themselves and their loved ones, people that otherwise I would've never known, makes it all worth it.
7. What's the best advice you can offer to readers on leading a meaningful life?
Take the risk to allow people in your life, to fall in love and to create! Whatever your passion is, try and make room in your life to pursue your dreams and make a difference in the world through art, music, writing, science, theater, academia, education… It doesn't have to be something big – it is the smallest things in life that make the biggest difference!
8. If you had your schooling and career choice to do all over again, would you choose the same professional path? If not, what would you do differently and why?
My training started more than 10 years ago in Bulgaria. I have come a long way since then but if I had to do it all over again, I probably won't change a thing about the path I took. Immigrating to the Unites States was probably one of the hardest things I had to do. I learned about counseling, psychology and psychoanalysis in the United States and mostly in Chicago, and the ways it works here as opposed to how it works in Europe.
It was and still is a process for me — I continue to have a multicultural perspective on mental health and I incorporate different cultural and psychological models of thought in my practice. If you had asked me 10 years ago how I identify in my practice, I probably would have been firm on saying that I am a Lacanian (a psychoanalytic school of thought).
Today, I am a lot less firm: Just because I am a Lacanian, it doesn't mean that I am not a lot more other things as well. I have many people to thank for that!
9. If there's one thing you wished your clients knew about treatment or mental illness, what would it be?
I would like them to know two things:
1) Anyone can benefit from therapy and you do not have to have a diagnosed mental illness to seek out support for yourself or your family.
2) It takes time to make a change in your life and feel better. Don't be afraid to make time for yourself or your family.
10. What personally do you do to cope with stress in your life?
I have some very challenging clients and am a wife and a mother of a 16-month-old toddler at home so it often feels as though I take care of people all the time. I wouldn't be able to do all of this if it wasn't for my own therapy, where it's just about me, I don't have to worry about other people's feelings and can focus on my own.
Therapy helps me be a better wife, a better mother, a better therapist and a happy, fulfilled and successful woman. With that, I have time and energy to spend with my family and enjoy those little things in life that make the big difference.
Shared by: Margarita Tartakovsky, M.S., Contributing Blogger April 6, 2015

Tags: Archive, Clinicians on the Couch