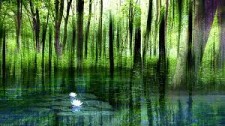 Oh man.
I really wanted to go.
I've wanted to go to this retreat for three years. It happens in late August every year in Northern California, and it's led by two experienced and amazing mindfulness teachers.
It's six days long. When you add in a day on each end for cross-country travel and a day to visit my family and editors nearby, that's nine days.
I've never been away from my girls for nine straight days.
My husband is incredibly supportive; every year he tells me I should go. He tells me he'll be fine with the girls, and I know he's right. He'll be more than fine. He'll be great. The girls will mostly be great. Except for when the toll of Mama being away so long starts to wear on them, as it does on me.
My girls are 4 and 5.5 this year. I decided they were old enough, so I checked the refund policy and signed up for the retreat.
I was excited. Thrilled. And completely ambivalent. I just couldn't shake the nagging feeling that it wasn't a good idea, that I would be away for too long.
Then my daughter fractured her arm on the 4th of July, and we weren't sure how long she would be in a cast. I felt even more concerned about going away.
A few weeks ago I sat down and looked at my calendar:
Late July – Conference in Washington DC.
First week in August – family vacation
Third week in August – retreat (?)
Labor Day weekend – family wedding in New Hampshire
Tuesday after Labor Day –big girl's first day of kindergarten
Thursday after Labor Day –little girl's first day of her last year of preschool.
That's a lot of travel and changes in a relatively short period of time.
And my big girl has just now healed from her arm.
It's too much. A little too much for me. A lot too much for them.
I cancelled the retreat. The retreat I have had my eye on for three years. It's true that I felt a bit disappointed, but more than that, I felt a huge amount of relief. And I knew that I had made the right decision for myself and my family.
I knew because I relied on mindfulness and mindful parenting to help me make this decision.
I made a concerted effort to notice my thoughts, and choose to pay attention to the ones that helped me understand more about what I want and need, and what my girls want and need. (I wasn't so worried about my husband; he made it clear that he was fine with whatever I decided.) I put aside the endless comparisons that were bouncing around my head; I have friends who travel more, and whose careers are farther along than mine, and friends who travel much less, and are rarely away from their kids. I have friends who would tell me to go, and friends who would tell me to stay. They are all wonderful parents, but listening to their voices, as well intentioned as they were, wasn't going to help me figure out the right path for me.
For this decision, I had to come back to myself and my daughters, and what we all need and want. This was pretty easy for me to figure out about myself: I wanted to go to the retreat, and even though the experience does have the potential to help advance my career, I didn't need to go.
My girls want me to stay home. The question was, did they need me to?
In the grand scheme of parenting and their lives, I knew they would be fine if I went. But I also knew that the retreat was scheduled for a particularly chaotic time in our lives; our summer schedule (with a beloved babysitter) is ending, my older daughter is starting kindergarten in a new school, and my younger daughter is starting her first year of preschool without her big sister. We're traveling a fair amount at the end of the summer, we're in the process of buying a new house, and I'll be traveling throughout this fall and winter as part of my book tour.
That's a lot for little kids. Shoot. That's a lot for ME.
Especially when we're all as sensitive as we are (Mommy included!).
And yes, I know they would survive, but transitions with two littles are challenging enough even when everything is as predictable as possible. I didn't need to throw a major wrench in the middle of it.
And so I'm not going.
This is what mindful parenting is all about—taking the time to check in with ourselves and our children, remembering who we all are and what we all need, accepting the reality of our lives and situations as they already exist, and using that information to make the most skillful decisions we can. Sometimes I wish that my kids were more oblivious to my absence or that the retreat was in early July instead of late August or whatever, but it is what it is, and once I came to terms with it, I was able to move on.
And so I have.
Don't worry, though. I've signed up for a weekend retreat  in late September. We'll have gotten over the back-to-school hump, and I'll just be gone for three days. It will still be a little hectic, but not as crazy, and I know that in order to be the best parent I can be, I have to take care of myself too.
What do you think? Would you have gone? How do you make these decisions?
Want more Mindful Parenting? Follow me on Facebook and Twitter .  
Shared by: Carla Naumburg, Ph.D, Contributing Blogger August 14, 2014

Tags: Archive, Mindful Parenting