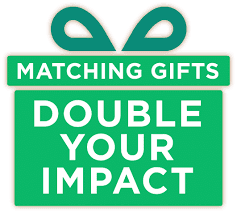 Many employers have a program of matching the tax-deductible donations of their employees (e.g., you donate $500, your employer matches it, the nonprofit of your choice gets $1000 total). Please inquire as to whether your employer has such a program, it can make a big difference for your favorite charity.
Locally, GE has a Matching Gifts Program, managed through the ​GE Foundation​. If you are one of their employees, all you have to do is visit the foundation website to participate. Wherever it is that you are employed, ask your HR representative if your company has a matching gifts program. There may still be time to double your donation by year's end!
Getting a donation in by year's end allows the donor to claim the donation when completing their federal tax paperwork in the Spring. If your favorite charity is a 501(c)(3) tax exempt organization, like United Resource Connection, then your donation may be used to lower the taxes you owe, and in some cases enable you to receive more money back when you get your tax return.
Matching programs are a big deal. We hope that as you investigate this possibility with your employer you will consider United Resource Connection as your beneficiary — if not, we hope this information on matching gifts will at least benefit another nonprofit doing good work in your community!
Shared by: United Resource Connection December 19, 2018