UC Health has opened a drive-thru COVID-19 screening and testing clinic on the UC Health Clifton Campus. Testing is available BY APPOINTMENT ONLY for all members of the community, including UC Health employees. In order to be seen in the drive-thru clinic, patients must have a scheduled appointment made by their physician's office.
The clinic is located under two tents outside the front entrance of the West Professional Building at 3120 Burnet Avenue.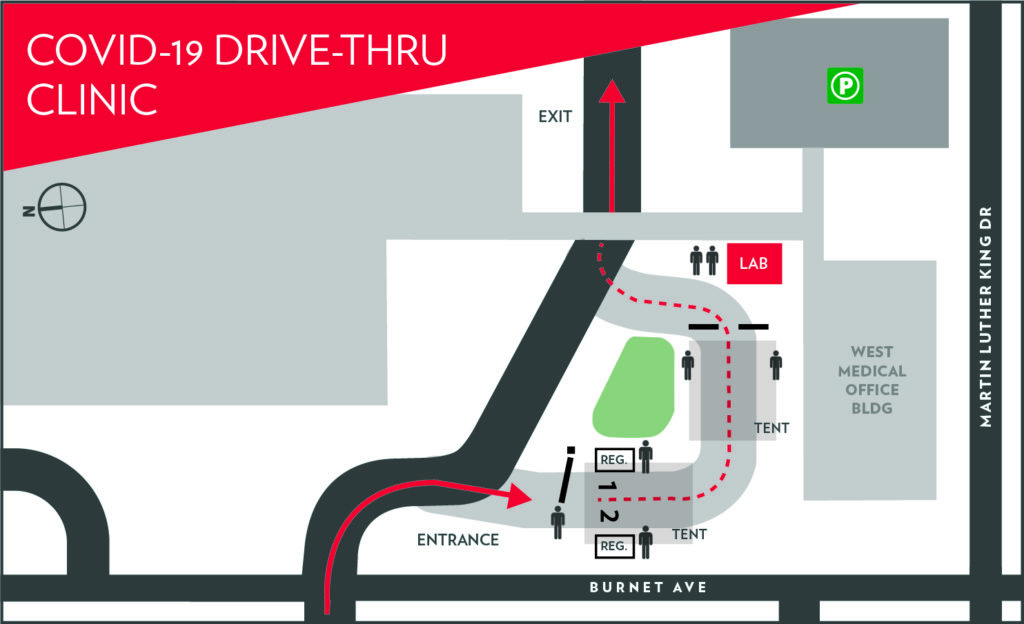 The purpose of the drive-thru is to minimize the number of patients directed to physician offices or the emergency department for screening and testing. Patients will receive an exam from a medical professional while staying inside their vehicle.
Up to four people can be seen per vehicle as long as each person has an appointment. Appointments will only be available for ages 14 and up. The clinic is open 8:00 a.m. – 8:00 p.m. seven days a week.
Depending on test volume, individuals should be contacted directly with their results within 72 hours. While waiting for their test results individuals should stay at home to prevent possible spread of the virus.
People who come to be tested should:
– Bring a form of photo ID and insurance card.
– Be prepared to remain in their vehicles while in the car line and throughout the entire testing process.
– Be aware that even though it is highly discourage it, members of the media may be present at or near the clinic. Every effort will be made to protect patient privacy.
– Bring water and other items to be comfortable while waiting.

Shared by: United Resource Connection March 23, 2020

Tags: Archive