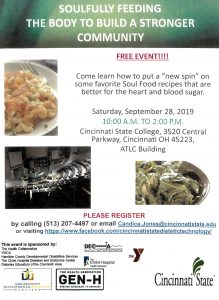 Come Learn how to put a new spin on some favorite recipes that are better for the heart and blood sugar levels at a new event by partners of the Fatherhood Collaborative of Hamilton County. 
Soulfully Feeding the Body to Build a Stronger Community is a free event from 10 a.m. to 2 p.m., Saturday, September 28, at Cincinnati State College. 
The post Event to offer healthier recipes for traditional Soul Food meals appeared first on Hamilton County Job & Family Services.

Shared by: Moira Weir, Director of HCJFS September 16, 2019

Tags: Archive, Cincinnati State College, fatherhood collaborative, Fatherhood Collaborative of Hamilton County, fathers, News, nutrition