USDA Has Extended Free Meals to Children through Summer 2021 Due to Pandemic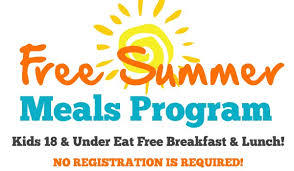 The U.S. Department of Agriculture (USDA) has announced a nationwide extension that allows all children to continue to receive nutritious meals this summer when schools are out of session. This extension is now available through Sept. 30, 2021.
The previous extension was due to expire June 30, 2021. The extension allows for safe meal distribution sites that serve all children for free, regardless of income. In addition, the extension allows these meals to be served outside of the normally required group settings and meal times; and allow parents and guardians to pick-up meals for their children, including bulk pick-up to cover multiple days of feeding children.
Right now, up to 12 million children are living in households where they may not always have enough to eat. These critically needed summer meals provide relief to many children in families who have been hard-hit by the COVID-19 pandemic and are fighting daily to put food on the table.
Summer meal sites are places where children and youth age 18 and under can receive meals at no cost in a safe environment. The meals are also available to persons over age 18 with mental or physical disabilities. Sites are located in a variety of settings including schools, parks, community centers, libraries, churches and more.
June CPS Meal Distribution Sites 2021
The following schools will be Community Meal Hub Distribution Sites where any child under 18 can get a Seven-Day Remote Meal Pack from 1-3 p.m. every Wednesday in June. Parents/Guardians may pick up for their child(ren).
| SITE NAME | ADDRESS |
| --- | --- |
| Bond Hill Academy | 1510 California Avenue, Cincinnati, OH 45237 |
| Cheviot School | 4040 Harrison Avenue, Cincinnati, OH 45211 |
| Dater Montessori School | 2840 Boudinot Avenue, Cincinnati, OH 45238 |
| Evanston Academy | 1835 Fairfax Avenue, Cincinnati, OH 45207 |
| Hays-Porter School | 1030 Cutter Street, Cincinnati, OH 45203 |
| John P. Parker School | 5051 Anderson Place, Cincinnati, OH 45227 |
| LEAP Academy | 2001 Baltimore Avenue, Cincinnati, OH 45225 |
| Mt. Airy School | 5730 Colerain Avenue, Cincinnati, OH 45239 |
| Mt. Washington School | 1730 Mears Avenue, Cincinnati, OH 45230 |
| Oyler School | 2121 Hatmaker Street, Cincinnati, OH 45204 |
| Parker Woods Montessori School | 4370 Beech Hill Avenue, Cincinnati, OH 45223 |
| Pleasant Hill Academy | 1350 W North Bend Road, Cincinnati, OH 45224 |
| Riverview East Academy | 3555 Kellogg Avenue, Cincinnati, OH 45226 |
| Roberts Academy | 1702 Grand Avenue, Cincinnati, OH 45214 |
| Rockdale Academy | 335 Rockdale Avenue, Cincinnati, OH 45229 |
| Roselawn Condon School | 1594 Summit Road, Cincinnati, OH 45237 |
| Rothenberg Preparatory Academy | 241 E Clifton Avenue, Cincinnati, OH 45202 |
| Sayler Park School | 6700 Home City Avenue, Cincinnati, OH 45233 |
| South Avondale School | 636 Prospect Place, Cincinnati, OH 45229 |
| Westwood School | 2981 Montana Avenue, Cincinnati, OH 45211 |
| Winton Hills Academy | 5300 Winneste Avenue, Cincinnati, OH 45232 |
| Woodford Academy | 3716 Woodford Road, Cincinnati, OH 45213 |

Shared by: United Resource Connection June 3, 2021

Tags: Archive