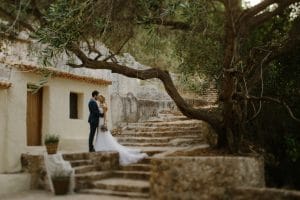 Linda: Carl Jung coined the term archetype and defined it as the universal symbols in the mind that can be observed in dreams and myths. Archetypes represent our potential laying dormant in our unconscious mind. We can deliberately call them forth, and there are times when we need the influence of Hera the wife.
Hera is the goddess of marriage. Her name means great lady, the feminine form of the Greek word hero. She represented the ideal woman. According to her myth, when milk spurted from her breasts the Milky Ways was formed. Married to Zeus, both Hera and Zeus are powerful leaders. Hera is the queen of Mount Olympus and all of the gods of Greece. She is the symbol of regal power and beauty. She is in command of her world, filled with confidence and authority.
Hera's archetype represents the capacity to be committed, bonded, loyal, and to endure difficulties with a partner. When a woman experiences the desire to have a strong bond with a lover, she uses her will. Her strong suit is bonding with her mate. The bond can be consciously cultivated by holding the model of Hera's iron clad commitment. She clearly had a shadow side, and her weak suit was her jealous and vengeful nature, principally aimed against the lovers of her husband and their illegitimate offspring.
In ancient Greece, temples were built in honor of Hera. Not just brides to be or new brides frequented the temple, but women of all ages. They prayed to the goddess Hera to bless them and teach them to be good wives. Knowing the adoration and devotion Hera had for Zeus, women flocked to her temples to be inspired. Her subjects used her as a model of wisdom, certainty and strength. She is the ultimate expression of self-assurance, which they knew was necessary, especially when married to a powerful partner.
A Hera woman enjoys making her husband the center of her life, with an expectation that he will fulfill her. It is Hera's belief that both she and her husband are continually transformed by marriage. When Hera was worshipped in Greek temples, her devotees came so that they too could be transformed in their own marriages. There were three ceremonies conducted. In the spring, she was worshipped as the maiden in a bath, which symbolically restored her virginity. In summer and fall, the marriage of Zeus and Hera was ritually performed, and she became the fulfilled one. In winter, she became the widow. These ceremonies represent the three states of a woman's life.
A situation in our life may activate a certain archetype to become active. But like the women in ancient Greece, praying at her temple, it is also possible today to use our power of intention to invoke the presence of this desired archetypal energy to come forth to serve us on a daily basis.
Today, when we invoke the presence of Hera, she has wisdom and guidance to offer, just as she did in ancient Greece. She can become an essential part of our being. Hera's leading characteristics are commitment, devotion, courage creativity and making partnership with her beloved a high priority. Bringing forth those strengths from with us, that may have lain hidden and dormant until we deliberately access them, will allow us to contribute our best effort to create a context for our partnership to thrive.
When we invoke the presence of Hera, we strike the balance of both having the consciousness of this powerful goddess while having full-hearted devotion to our partner. Hera in no way gives up her essential self for another. She holds fast to her power while committing to a great love.
---
If you like what you read, click here to sign up for our monthly inspirational newsletter and receive our free e-book: Going For the Gold: Tools, practice, and wisdom for creating exemplary relationships.

Shared by: Linda Bloom, LCSW, & Charlie Bloom, MSW, Contributing Bloggers November 6, 2017

Tags: Archive, relationship-skills