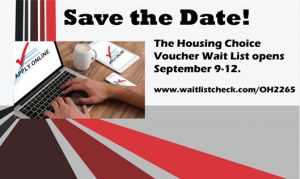 The Cincinnati Metropolitan Housing Authority will accept pre-applications for its Housing Choice Voucher/Section 8 wait list beginning at 8 a.m. Monday, September 9, and ending at 11:59 p.m. Thursday, September 12. Pre-applications will be accepted online only at www.waitlistcheck.com/OH2265.  
The wait list will be filled using a lottery system, it is not based on when the application is submitted. Only one application per person will be accepted. Public and private computers have been identified for use during the opening of the wait list. Visit www.cintimha.com for a locations list.
    To apply you will need to know your: 
Annual Household Income
Birth dates and Social Security Numbers for the Head of Household and Spouse
Current Mailing Address and Emergency Contact Address
Computers are available for use at the following locations:
The Public Library of Cincinnati and Hamilton County
Easter Seals
Queen City Soup Kitchen (Walnut Hills Location)
West College Hill Neighborhood Services
A complete list can be found at  www.Cintimha.com
The post Housing Applications accepted Sept 9-12 appeared first on Hamilton County Job & Family Services.

Shared by: Moira Weir, Director of HCJFS August 28, 2019

Tags: Archive, housing, Metropolitan Housing Authority, News, poverty, public assistance, Section 8, Voucher, Wait list