The Hamilton County Mental Health Levy is a no-brainer. We don't need binders of women, horses and bayonets or even a challenge from Donald Trump himself to demonstrate the importance of these services!
Please check out the facts:
About 160,000 Hamilton County residents — one out of every five — are affected by mental illness each year. Most will receive treatment from private sources. But many citizens have nowhere to turn. That's why the Mental Health Levy is so important. It provides counseling to troubled teens and children in our schools. It also funds clinical treatment, housing and job training for severely mentally disabled adults, helping them to lead more self-sufficient, productive lives in their communities.
Over 42,000 adults and children benefited in 2011 from mental health services funded by the Hamilton County Mental Health & Recovery Services Board:
14,684 Adults and 7,619 children benefited from a range of services including more traditional mental health services such as counseling, case management and medication monitoring, as well asl specialized services that serve to further facilitate an indivdual's reintergration into a meaningful role in society.

6,161 Individuals received emergency care

14,104 Individuals received crisis services
Funding for these services in Fiscal Year 2011 (FY) came from the following sources: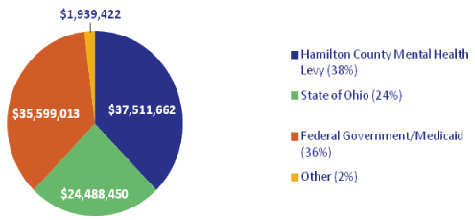 Levy funds are used by the Hamilton County Mental Health & Recovery Services Board to purchase specific mental health services from over 36 community-based agencies. The Mental Health & Recovery Services Board monitors contract compliance and ensures quality control.

Mental Health & Recovery Services Board costs for administration were just 5% in FY 2011.
95% ($94.4 million) of the Board's FY 2011 budget funded services for children and for adults with severe mental disabilities.
The Board's primary focus is to provide services to adults with severe mental
disabilities and children.
Funding for the levy will expire at the end of this year. A renewal of the current levy has been placed on the ballot at the current millage – which means no increase in taxes.  The current millage costs the owner of a $100,000 home $48.38.
VOTING FOR THE MENTAL HEALTH LEVY WILL NOT INCREASE TAXES
Services provided by the Mental Health & Recovery Services Board with funding from the levy include:
Community Support Services: Rehabilitation, case management and related support
services to 9,674 adults and children with disabling or serious emotional impairment.
Crisis Response Calls: During the past year, Board funded providers responded to nearly 16,000 crisis calls.
Crisis Services: A crisis intervention system responds when people feel overwhelmed or distressed by mental illness and need more than a phone call or outreach, which includes crisis stabilization centers for both children and adults.
Hospitalization: The board contracts with community hospitals for individuals needing a highly structured, safe and secure environment.
Counseling: 8,617 individuals received individual counseling and 1,312 individuals were involved in group counseling.
Housing/Residential: A range of affordable living environments to suit individual treatment needs, including long-term and emergency accommodations. The board provides funding to 61 family-style care homes serving 400 adults. Additionally, the board provides housing to over 400 individuals in 88 buildings in neighborhoods throughout the county. INCLUDING 61 of the 150 residents who call TENDER MERCIES home!
Consumer-Driven Services: The Recovery Center of Hamilton County provides an
opportunity for continued growth and recovery for individuals through self-help/support
groups, educational and vocational activities and community outreach and integration efforts. There are additional services throughout the county such as Warmline, which provides individuals with information and support 24 hours a day, and the Mighty Vine Wellness Club, a consumer operated business that provides exercise and wellness activities for its members.
Vocational Services: In the past year 439 individuals were enrolled in the Board funded job training, coaching and placement programs-a key to independent living.
Assessments/Evaluations: Diagnostic screening of seniors entering nursing homes.
Diagnostic assessment for acute mental illness in adults and children through Psychiatric Emergency Services and the Mental Health Access Point.
Prevention & Education: During the past year, agencies funded by the Board provided
over 8,000 hours of prevention and education activities. These activities included support groups for victims of violence and abuse, and consultation and training for professionals, volunteers, single parents, etc. Additionally, Board funded agencies provide evaluations for preschoolers through Childreach, and on-site counseling through the Interagency School Crisis Team.
Mental Health Access Point: Operating 24 hours a day; responded to over 39,000 calls last year and granted authorization for 3,293 adults and children to receive inpatient or residential crisis stabilization or partial hospitalization and completed 1,332 diagnostic assessments.
Thanks for supporting Issue 51!
For more info: http://www.mentalhealthworks.org
Russell
Shared by: Russell Winters, Social Worker & Executive Director of Tender Mercies January 11, 2014

Tags: Archive