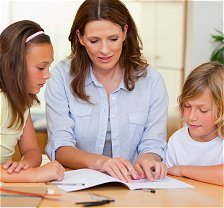 One of Elizabeth Sullivan's clients recently told her: "I never dreamed I was such a tough person. I can take so much and just keep going. I thought I was kind of lame and sort of a wimp but I am able to do it all for my family."

But at what cost? What suffers when you take on everything? Sullivan asked her.
"[O]f course the answer is her life, her ability to relax and not be hypervigilant all the time, her sex life, her romance with her partner, her sleep, her friendships, her ambition, her body, her sense of freedom," said Sullivan, a licensed marriage and family therapist in San Francisco specializing in helping moms and the entire family.
This is common for moms. There's pressure to do it all and be all—from being present for your kids to having a tidy home to having a small waist to making super nutritious meals to being successful at work.
In this societal climate, moms can't win. "We're neglectful or hovering; we're too focused on ourselves or we're overly focused on our kids and don't have a life—it's a trap," Sullivan said.
In this societal climate, it's also easy to dismiss our mental health because it's not seen as important, said Julie Bindeman, Psy.D, a psychologist and co-director of Integrative Therapy of Greater Washington. "We can see this within our health insurance model or the difficulty in finding a practitioner as well as the continual stigma that mental health concerns have."
Many moms also have a heavy "mental load." We're typically the ones who keep track of schedules, doctors' appointments, household items, meal planning and more, Bindeman said.
Her clients also are plagued with fantasies of being perfect and finding a permanent sense of balance. They think they should give 100 percent at work and 100 percent at home—without feeling burnt out, she said.
Psychologist Emma Basch, Psy.D, sees the same thing at her Washington D.C. practice. Her clients have a hard time embracing "good enough." They also fear that any mistake in their parenting or their work will be catastrophic.
Sullivan has noticed that many moms struggle with excessive envy and a kind of obsession with other moms, which is "like poison." "Moms also struggle with depression from the loss of their 'old' life; from the hormonal changes of mid-life; from the loss of support from a broader circle of friends, and from the loss of taking care of themselves."
In other words, moms deal with a range of challenges, which makes prioritizing our mental health even more important.
Mental wellness affects everything, Basch said. It affects our mood and our physical health and longevity. It affects our ability to parent, to concentrate and to be productive, she said.
Here are different ways you can enhance your mental health—which aren't about adding more tasks to your already too-long to-do list. These are options for genuinely caring for yourself, because you are a priority, and because you do deserve it. And, if you need more convincing: The number one indicator of happiness for kids is the happiness of their mom, Sullivan said.
Try therapy. Working with a therapist is Sullivan's number one tip. "Moms need time—and one hour a week is a very small amount—to find the stillness to focus on themselves and to form a nurturing relationship to themselves."

Honor your feelings. Often we think we should be better and should do better. Often we push ourselves, and berate ourselves. Often we dismiss our feelings, or get angry with ourselves for being angry, for being tired, for being upset. Because we think we should feel differently. Because moms supposedly don't have needs—or we aren't supposed to attend to them.
Instead, "Acknowledge difficult moments and painful feelings with kindness and without judgment," Basch said. Process them, and be patient with yourself (like you'd be with your child). Today was really hard. I feel lost. I don't feel like myself. I feel sad. I'm frustrated. I'm not a robot, so it's understandable that I'm tired, and can't get everything done. I am doing the best I can right now.

Focus on your marriage. Your relationship with your spouse is the foundation of everything, Sullivan said. Which is why it's vital to focus your energy on your marriage. She underscored that this isn't for your partner; it's for you. "[Mom] needs a deep, fun, alive, supportive adult relationship with her kid's other parent; it is for her own sanity and nurturance."
Make time for date nights. Play together—whether it's Scrabble, a snowball fight, a dance class or a bike ride. Check in with each other, genuinely asking, how are you? Create rituals at home, which might include drinking tea and talking after the kids go to bed every night.
Be proactive. Basch suggested asking yourself: "What are things I can do each week which make me feel mentally well, rather than what do I need to do now that I feel unwell?" What refreshes you? What inspires and uplifts you? What genuinely relaxes you? What are your needs currently? How can you meet them right now or this week? What helps you to feel healthy? What helps you to feel the way you want to feel? For instance, Basch's clients journal, take long lunches, spend time in nature, meditate and savor alone-time.

Be mindful with simple activities. Pick a daily activity that doesn't take much time or mental energy (e.g., brushing your teeth, drinking a cup of coffee), and do it mindfully, Basch said. Using your senses, tune into the activity, and bring your thoughts to the present moment.
(Bindeman suggested checking out these mindfulness apps: Insight Timer and HeadSpace.)

Focus on the breath. Basch recommends this to moms of new babies: Put your hand on your baby's belly, and bring your awareness to its rise and fall. Bindeman suggested this breathing technique: "Inhale for a count of three, pause for a count of three, and exhale for a count of three. Repeat this cycle four times, and then re-evaluate if you would benefit from another round."
Ultimately, remember that in addition to being mom and wife and worker, you are also a person. You are a person who has needs, important needs that deserve to be met. You are a person who requires rest and play. Because you aren't a machine. You are a person. A multifaceted person. How would you like to honor that?
Shared by: Margarita Tartakovsky, M.S., Contributing Blogger December 12, 2017

Tags: Archive, Clinicians on the Couch