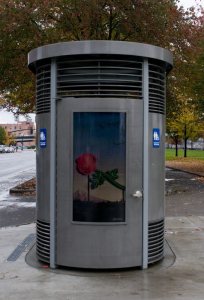 By Jason Happ
My mother says I inherited "spastic colon" from her.  That probably sounds rather personal, even unsavory, but it's true. Sometimes, certain foods trigger a rather explosive need for me to find a toilet. These food triggers can often be unpredictable, and the time between eating and needing a toilet can vary, from just a few minutes to a couple of hours. In other words, I know how important it can be to find public facilities.
I understand why some advocate for restricting access to restrooms. It was awkward, one afternoon years ago, when I took my son into a public restroom downtown and the homeless guy with his shirt off was scrubbing his armpits with hand soap. I know that sometimes drug addicts will hide in a stall to shoot heroin, and sex addicts can use stalls for engaging in business with prostitutes.
All of that, however, seems rather trivial if I have a bout of "spastic colon." Or if I have a three year old who needs to pee. Or if I am a pregnant woman. Or even if I am a homeless person who needs to use the toilet. And, though some of us have more means than others, that doesn't mean we are always prepared or capable to go buy something just for the privilege of using a toilet at a private business.
That's why, for years, I have been talking about the Portland Loo. If you have access to the internet, go ahead and Google it. The Portland Loo is a universally accessible public toilet designed to be easy to clean, and to frustrate things like bathing, drug use, and prostitution — all those things people use as excuses to restrict access. In short, the Portland Loo is an elegant solution for the problem of easy access to clean and safe public facilities.
A few weeks ago, I sent an inquiry to members of Cincinnati City Council, asking their thoughts about having such a concept here. At the time, I intended to write a standard news story, but then I learned Councilmember Chris Seelbach had submitted a motion on this matter.
If my ability to read scribbled signatures is any indication, the motion has been signed by Seelbach, Roxanne Qualls, Yvette Simpson, Laure Quinlivan, Wendell Young, PG Sittenfeld, and Christopher Smitherman. Here is what it reads: "WE MOVE that the Administration report on the feasibility and costs related to the installation of several 24-hour public restroom facilities in and around Downtown Cincinnati similar to the 'Portland Loo' for the purpose of providing environmentally friendly, clean and safe restroom facilities for the betterment of public health in our City. The Administration should also look at other ways to increase options for restrooms in the downtown area including expanded hours at various City-owned facilities (Fountain Square, etc.)."
It feels as if private interests like 3CDC have been restricting access to toilets for years — ever since they started closing the Fountain Square restrooms (apparently to drive away patrons they deemed unworthy of their upgraded outdoor space). But the Portland Loo is a solution that can meet everyone's needs.  I really encourage you to Google it and learn more on your own — and if, like me, you think access to toilets is somewhat taboo, but still a basic human right, then consider sending an email to the members of City Council, telling them you support the Portland Loo.
You can send a message to the entire council at this address: citycouncil@cincinnati-oh.gov.  And, if the somewhat obscure notion of toilet advocacy interests you, check out http://www.phlush.org , an organization which "believes that toilet availability is a human right and that well-designed sanitation systems restore health to our cities, our waters, and
Shared by: streetvibes November 9, 2012

Tags: Archive