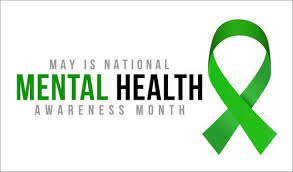 May is Mental Health Awareness Month. Mental Health Awareness Month has been observed in May in the United States by Presidential Decree since 1949, basically right after WWII. The purpose of Mental Health Awareness Month is to raise awareness and educate the public about mental illnesses, the realities of living with these conditions, and strategies for attaining mental health and wellness.
Local Statistics. 1 in 5 adults in the United States suffer from some form of mental illness, but it is estimated that only half of those seek treatment. These numbers mean that in a region the size of Hamilton County there are potentially 163,400 individuals experiencing a mental health condition annually, and 81,900 of those who — for whatever reason — do not seek help. The National Association of Mental Illness (NAMI) estimates that 1 in 20 adults experience a serious mental illness every year. In a region the size of Hamilton County, that is approximately 40,850 people per year.
Mental Health crises are recognized to have increased over the past year during the COVID-19 pandemic. The National Center for Disease Control (CDC) has identified a significant increase in anxiety and depression, as well as alcohol and drug abuse, and suicide, during the COVID-19 pandemic.
Some of the major categories of Mental Illness include: 1) Anxiety Disorders, 2) Mood Disorders, and 3) Thought Disorders. Post-Traumatic Disorders can have symptoms associated with any of these categories, but are cases in which we can more readily identify a specific event that seems to have caused the disorder. A mental health problem, in the most basic sense, represents a change in the way an individual thinks, perceives or feels in the world around them– in such a way as to become debilitating.
Outcomes, Stereotypes and Stigma. More often than not, there are changes that can be made to more successfully live with mental illness, as well as pathways to fully recover from mental illness. But it is true that there are some instances where a mental illness does not seem to get better, and persists in a devastating manner to the individual, and their family, friends, and community.
Sometimes people can have a pre-existing idea (a stereotype or stigma) that these illnesses always just get worse, and continue to spiral out of control– and that this is the normal outcome. The truth however, is that more often than not, people do get better, and people do fully recover.
People sometimes also have the idea that positive outcomes, such as people getting better, happen or should happen without the help of family, friends, and community– the truth is that more often than not, outside help is intimately connected to successful outcomes and complete recovery.
Barriers & Stigma. Often one's struggle is not just with illness but with the healthcare system as well, where the system can be difficult to navigate, and good care often cost prohibitive in the for-profit world, and underfunded in the nonprofit world. Stigma about using help can also be a barrier– two types of this include fear about what others will think about you seeking help, or a pre-existing belief that treatment doesn't actually work. Barriers like prejudice and discrimination can exist, as well as structural barriers like transportation issues.
You Are Not Alone. The National Alliance on Mental Illness (NAMI) designates a theme each year for mental health awareness month. This year's theme is the message that "YOU ARE NOT ALONE". There are people just like you that have recovered, and people that can intimately help. The local way to make contact for these services is by calling 211 which connects you with the United Way. There are also freely available application forms and community mental health resource guides located on the "Mental Health" tab of our Public Document Server.

Shared by: United Resource Connection May 1, 2021

Tags: Archive