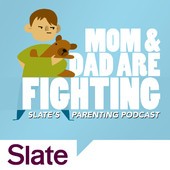 In case you haven't come across it, Slate has a new parenting podcast called Mom and Dad are Fighting, and it's great. It's smart and funny and honest. (Hey, any parenting podcast that starts out with a warning about explicit language works for me.)
In the wake of Hanna Rosin's article and my response , Allison Benedikt and Dan Kois (the hosts of the podcast) asked me to talk about mindful parenting, and I was more than happy to! The podcast is up now. Take a listen, and let me know what you think. Did my thoughts resonate with you? Surprise you? Do you have questions about any of it? I'd love to hear what you're thinking, either here on the blog, or on my Facebook page or Twitter feed . Let's keep this conversation going!
You can find the podcast here , and it's also available through iTunes.
Shared by: Carla Naumburg, Ph.D, Contributing Blogger January 16, 2014

Tags: Archive, Mindful Parenting