I'm back!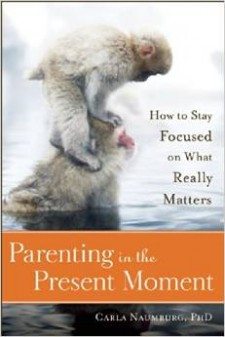 Sorry I disappeared for a while, folks. I've been busy with book talks for Parenting in the Present Moment, working on my next book about teaching mindfulness to children (New Harbinger, 2015), helping my big girl transition to kindergarten, my little girl transition to not being in the same school as her big sister (The tears! Oh, the tears!), and obsessing about Serial.
Anyway, one of the most common questions I get at my book talks is about how to start a mindfulness practice and how to become a more mindful parent. There are many different ways to learn to focus your attention and bring yourself back into the present moment with kindness and curiosity, and the trick is to find the style that works for you. The good news is that there are a lot of people doing this work from very different perspectives, and they've been kind enough to share their wisdom with us.
So, just in time for the new year and new resolutions, here is my top ten list of parenting resources that will help you simplify, slow down, and be more present for yourself and your children:
Simplicity Parenting: Using the Extraordinary Power of Less to Raise Calmer, Happier, and More Secure Kids by Kim John Payne and Lisa Ross
I've read a lot of parenting books, and this is one of my favorites. It's all about simplifying your life so you and your kids can get a little headspace to calm down and reconnect. The ideas in this book are logical, pragmatic, effective, and totally do-able.
Scary Mommy: A Parenting Website for Imperfect Parents (Jill Smokler)
This might not seem like an obvious choice for a mindful parenting website, but bear with me. One of the most important ways we can take care of ourselves in the work of parenting is to remind ourselves, on a regular basis, that we aren't alone in the craziness of life with little ones. Jill Smokler (aka Scary Mommy) has created an online community where parents tell it like it is. It's honest and hilarious and it reminds me that I'm not the only one who hides in the bathroom with a chocolate bar from time to time. Be forewarned, though—if you can't laugh at this parenting stuff, this might not be the right place for you.
How to Talk So Kids Will Listen & Listen So Kids Will Talk by Adele Faber & Elaine Mazlish
If you're struggling to communicate with your child, this is the book for you. It's clear, readable, and gets right to the point with excellent advice.
Operating Instructions: A Journals of My Son's First Year by Anne Lamott
Anyone who has read Anne Lamott's writing is familiar with her insightful, compassionate, and humorous take on life.  Her experience as a single mother is the subject of this book, and it's the kind of book you'll want to curl up with once the kids are in bed.
Parenting From the Inside Out: How a Deeper Self-Understanding Can Help You Raise Children Who Thrive by Daniela Siegel & Mary Hartzell
The reality is that our childhood impacts our parenting. For a number of reasons, and in a variety of ways, our relationship with our children can trigger memories, emotions, and reaction from our earliest years. Sometimes we realize what's going on, but more often than not, we don't. Understanding this dynamic is a powerful first step towards changing some of the unskillful behaviors that may be impacting our experience of parenting and our relationship with our children. This book is a great place to start.
Hunter Clarke-Fields is a yoga teacher, mama of two young children, and the force behind Hunter Yoga. Her blog posts, yoga videos, and virtual retreats offer a variety of ideas for busy parents who want to bring more mindfulness and self-care into their parenting.
Real Happiness: The Power of Meditation: A 28 Day Program by Sharon Salzberg
This isn't a parenting book, but it is my favorite book on how to start a mindfulness meditation practice. Sharon Salzberg's writing is clear and accessible, and this book will teach you the basics of a number of different styles of meditation so you can find a match that's right for you.
Honest Parenthood with Dr. Jessica Michaelson
Jessica Michaelson is a clinical psychologist, parenthood coach, and the founder of Honest Parenthood, which includes a thriving Facebook community where parents can, and do, bring their struggles and questions and get insightful, effective, research-based responses from Jessica. I'm constantly re-tweeting and sharing her posts on Facebook because they are so real, and spot on. Now, if you're looking for a list of the ten most effective ways to get your daughter to eat her peas, this isn't the place for you. But if you're looking for new ways to take care of yourself, reconnect with your partner, and enjoy parenting more, check out Honest Parenthood.
Yell Less, Love More: How the Orange Rhino Mom Stopped Yelling at Her Kids – and How You Can Too! By Sheila McCraith
Sheila McCraith started her journey to yelling less after her handyman overheard her yelling at her four (!) young boys, and the result was a Facebook community with over 50,000 fans and Sheila's new book, which is filled with stories, pictures, worksheets, and fabulous tips and suggestions for how to stay calm when your kids are really pushing your buttons. The amazing thing about Sheila is that she has a found a way to talk about mindfulness without ever talking about mindfulness. It's awesome.
Parenting in the Present Moment: How to Stay Focused on What Really Matters by Carla Naumburg
You can read excerpts of my book here and here, but for now, I think I'll share Jill Smokler's review:
I'm not normally a fan of parenting books—I always seem to end up more defeated than inspired by the end. Parenting in the Present Moment, however, spoke to me—Dr. Naumburg has a 'been there, done that' way of communicating her message which didn't make me feel like a failure and, instead left me wanting to make some positive changes in my life. Imagine that!"—Jill Smokler, Confessions of a Scary Mommy
Those are my recommendations. I'd love to hear yours! What books have inspired you to make a real and positive change in your life?
Want more Mindful Parenting? Follow me on Facebook and Twitter.
Shared by: Carla Naumburg, Ph.D, Contributing Blogger February 2, 2017

Tags: Archive, Mindful Parenting