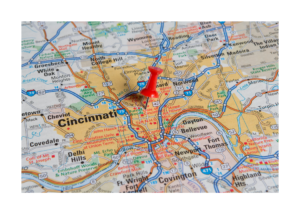 Strategies to End Homelessness serves as the lead agency for the Cincinnati-Hamilton County Continuum of Care for the Homeless and oversees funding from the U.S. Department of Housing and Urban Development. A role we have held since 2007. Now we're taking a regional response to ending homelessness.
We oversee and coordinate HUD funds, in partnership with Hamilton County and the City of Cincinnati, to more than 20 partner agencies. Providing supportive housing and services to nearly 12,000 people annually. We are proud to serve our community and are actively working to expand our programs across the region.
Taking a regional response to ending homelessness
Our city is unique. We can see Northern Kentucky from our office. But our work and our funding cannot cross the Ohio River. Likewise, people from Butler, Warren or Clermont Counties can't get our help.
Our Shelter Diversion program allows us to meet the household where they are, and prevent the trauma of homelessness.  But HUD does not fund Shelter Diversion. Additionally, half of the callers to the CAP Helpline are from outside of Hamilton County. Including from Northern Kentucky and from nearby Ohio counties.
Due to limitations on our funding, we cannot enroll them in our Shelter Diversion program. And can't prevent the family from experiencing homelessness. Instead, they must leave their own communities and support networks and get help in Hamilton County. And only after they have become homeless.
Expanding our Shelter Diversion services beyond Hamilton County
We know people experiencing homelessness across Northern Kentucky and surrounding Ohio counties come to Cincinnati for help. And again 50% of all callers to our CAP Helpline are from outside Hamilton County. So, that's why we are taking a regional response to ending homelessness. We are committed to creating a Shelter Diversion Program to directly serve more families.
Housing is a basic need
Nearly all the households we serve are low- or very low-income. Without a stable home, families can't realize economic mobility and their well-being will suffer. Proven through studies including the Urban Institute's "Why Housing Matters for Upward Mobility ". "People experiencing homelessness often experience a continued decline in employment, while being rehoused… stops that decline in employment, increases earnings, and stabilizes households (Mayfield, Black, and Felver 2012)."
We are just getting started
If you or someone you care for are currently homeless or experiencing a housing crisis, please call the Central Access Point (CAP) phone line at 513-381-SAFE (7233). CAP is a centralized intake system for individuals and families who are currently experiencing homelessness or who are at risk of becoming homeless. Intake Specialists will gather information about your situation and help place the individual or family into a shelter, or provide a referral to a partner agency for help.

Our thanks to our friends and partners who are helping shape the expanded program and helping more people in our region. Especially the Carol Ann and Ralph V. Haile, Jr. Foundation, Elsa Heisel Sule Foundation, and the United Way of Greater Cincinnati.

The format and/or content of this post has been edited to fit guidelines of the Cincinnati Chapter of United Resource Connection for this rebroadcast.
The post Our regional response to ending homelessness appeared first on Strategies to End Homelessness .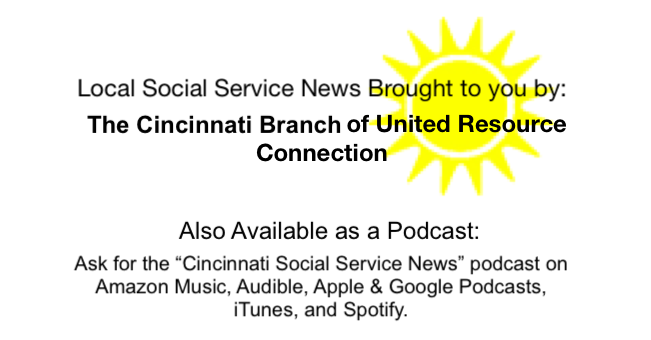 Visit original source at Strategies to End Homelessness (.org)

Shared by: Strategies to End Homelessness November 16, 2021

Tags: Archive, Blog, homelessness