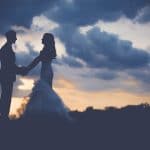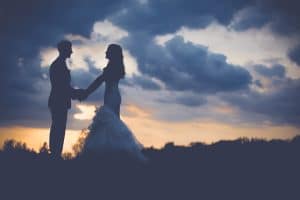 Co-creating Vows
Linda: I love ritual. And of all the various rituals, the marriage ceremony is my favorite. It touches me so deeply when a couple decides to join their lives together and pledge their love and support each other for a lifetime. The part of the marriage ceremony I cherish the most is the exchange of vows. Over the last decades, more and more couples are writing their own vows rather than just repeating what the minister has them say.
I believe this is an extremely important trend because writing our own vows forces us to carefully reflect on what it is that we actually are committed to. Each couple is unique and their vows offer an opportunity to deliberately speak to that which has most heart and meaning for them. I have been blessed over the years to be invited to perform wedding ceremonies for friends, clients, and students. I have saved some of the vows that touched me and offer them here for you to consider.
I vow to be a worthy opponent and to speak the truth, even when I know that what I say may upset you and make you angry.
I vow to search out any of the subtle places where manipulation may lurk.
I pledge to honor you as much as myself, not more than myself, nor less than myself.
I vow to love the people in your life, your mother, father, brother, sister, friends, as a way of showing my love for you.
I vow to work with my jealousy, so that you feel free to enjoy close relationships with others, including friends of the same gender.
I vow to prompt you to continue to develop your talent, to give your greatest gifts to the greatest number of people.
I vow to support you to take risks, try new things and to go to places you've never been before.
I vow to be forgiving when we are imperfect, and make errors.
I vow to be thee guardian of your solitude. I vow to love you by taking good care of myself and developing my own gifts, to encourage your inspiration.
I vow to continually, consistently see the divine in you and assist your process of discovering deeper levels of the sacred both within and around you.
I vow to live with an open heart and to encourage your big beautiful heart to open more fully so that service is the defining essence of our life together.
I vow to never do anything for you because of duty, should, obligation, have to or because I think you will be angry with me. I will only give that which springs forth spontaneously from my purest heart.
I vow to continue to take good care of myself through exercise, nutrition, rest and connection to family and friends who nourish my soul, so that I will be strong and healthy for as long as possible to enjoy our life together.
I vow to bring forth my playfulness, so that we can have lots of fun.
I vow to make your happiness my highest priority, which includes tending to my own.
I vow to support you to become the best that you can be and to allow you to influence me to become the best that I can possibly be.
Please don't feel restricted to these. They are only a starting place, designed to launch your into a thorough investigation of your truth. And by all means after the ceremony, put those vows that you discover in your heart, in a very safe place. You will want to take them out sometimes to revisit what you declared on that special day, and once again fill up on the sacred sweetness of that which you promised.
__________________________________________________________________
Linda and Charlie Bloom are excited to announce the release of their third book, Happily Ever After . . . and 39 Other Myths about Love: Breaking Through to the Relationship of Your Dreams.
Praise for Happily Ever After: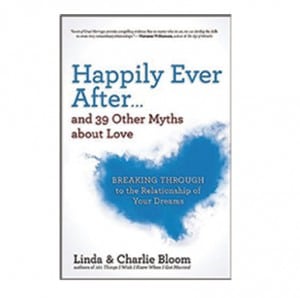 "Love experts Linda and Charlie shine a bright light, busting the most common myths about relationships. Using real-life examples, they skillfully, provide effective strategies and tools to create and grow a deeply loving and fulfilling long-term connection." – Arielle Ford, author of Turn You Mate into Your Soulmate
If you like what you read, click here to visit our website www.bloomwork.com and subscribe to receive our free inspirational newsletters.
Follow us on Facebook!
Shared by: Linda Bloom, LCSW, & Charlie Bloom, MSW, Contributing Bloggers February 7, 2017

Tags: Archive, relationship-skills