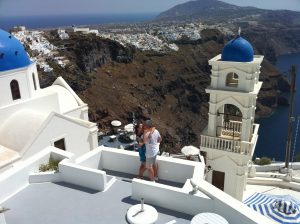 More Honeymoons Are Better
Linda: I know a creative, dynamic man named Ken. When he got married, he enjoyed his wedding day so much that he said to his wife, "We should do this every year!" And they have, twenty-five times. They have gotten married in many different traditions: by a Baptist minister in the French West Indies; in an Anglican ceremony in England; by the skiing judge in Vail, Colorado; and by a kahuna on the beach in Hawaii. Once they got married on shipboard by an Episcopalian minister sailor; they had a Buddhist ceremony at the San Francisco Zen Center; and one year, Al Huang, a tai chi master, married them in a ceremony at the Esalen Institute in Big Sur, California. A Mexican judge once married them in Cabo San Lucas with a mariachi band playing, and the next year they got married near Tucson by a Navaho elder who brought his family in native garb to bear witness to the ceremony.
Ken and his wife Maddy alternate years coordinating the event. The ministers always get a big thrill out of marrying a couple that has a strong history of commitment, rather than wondering, as they often do, "How long will this marriage last?"
Each year, there are new vows, a new officiator, a new photographer, and, of course, always a honeymoon. The pictures in the photo album of each ceremony show the changes in their lives. There are shots of Maddy with a big belly from each of her two pregnancies. And, of course, nowadays, aging shows in their faces. When they look at the pictures, they remember some of the joys and hardships they have gone through together. Ken told me that every time he participates in a ceremony, he comes away profoundly moved, with some new understanding about himself and the relationship. The cost, about two hundred dollars for the officiator, plus an additional cost for the photographer, seems a small price to pay for the tremendous value they derive from the renewal of their vows and the ritual of once again declaring their love and commitment to each other.
It's been obvious to me for a long time that we don't just commit to a relationship once. We commit countless times. We commit when we become engaged, at the legal marriage ceremony, and each time we have a child together. But there is also a series of often, unnoticed recommitments that are profoundly important. These are the ones that follow periods of doubt, disappointment, and stress, the dark periods in the marriage that, at times, can threaten its very viability. When we manage to navigate the darkness and come through to a period of renewal and light, there is cause for great celebration and rejoicing.
For years, Charlie and I have been renewing our vows and writing new ones. Sometimes we exchange vows on our wedding anniversary, sometimes on Valentine's Day, sometimes on New Year's Day. Each year we make sure to go away for a honeymoon. What is important is not so much what we do or where we go, but that we intentionally re-infuse our connection with a renewed commitment to love and support each other, at ever-deepening levels. These affirmations enrich our relationship profoundly, strengthen the bond between us, and continually remind us of the refuge and love we envisioned on our wedding day. What do you think? Do you think that you would like to have a re-enlistment ceremony and renew your vows?
__________________________________________________________________
Linda and Charlie Bloom are excited to announce the release of their third book, Happily Ever After . . . and 39 Other Myths about Love: Breaking Through to the Relationship of Your Dreams.
Praise for Happily Ever After: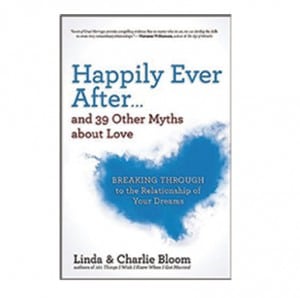 "Love experts Linda and Charlie shine a bright light, busting the most common myths about relationships. Using real-life examples, they skillfully, provide effective strategies and tools to create and grow a deeply loving and fulfilling long-term connection." – Arielle Ford, author of Turn You Mate into Your Soulmate
If you like what you read, click here to visit our website www.bloomwork.com and subscribe to receive our free inspirational newsletters.
Follow us on Facebook!
Shared by: Linda Bloom, LCSW, & Charlie Bloom, MSW, Contributing Bloggers February 9, 2017

Tags: Archive, relationship-skills