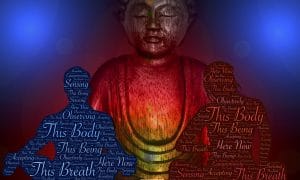 It's easier than you think.
Linda: Most people think of spiritual practice as going to church or temple, prayer, singing of hymns, chanting, ritual, and meditation rather than daily interactions with other human beings all day long. In fact they have their spiritual rituals in a very separate category from the way they relate to those in their lives. But the process of spiritual development and conscious relationship are not separate or mutually exclusive. The chanting and meditation are optional, as is the wearing of orange robes, but what is as essential as any of the spiritual rituals we do, is how respectful we are and how we honor and support those with whom we interact.
A spiritual practice is any process, which promotes the experience of openheartedness, speaking the truth as a means of uncovering and discovering who we are, and connecting us to our true nature. It's not necessary to go to India or to meditate hours a day. The experience of the sacred is available through relationship with our spouse, lover, parents, children, and closest friends. They are all our holy teachers providing us with opportunities to practice.
There are many paths that can lead to spiritual awakening: service, devotion, meditation, and wisdom are but a few. One of the most profound, challenging, and effective means through which we can become spiritually transformed is by using the path of relationship as a means of furthering our inner development as well as our capacity to connect deeply with others in the world.
Of the many paths that promote the awakened heart, it has been said that none are as challenging or rewarding as the path of committed relationship. There are few arenas in which we are so relentlessly confronted with the attachments, judgments and fears that keep our hearts closed. The path of conscious relationship gives us access to aspects of our being that we might otherwise tend to avoid or deny, both to others and ourselves.
Demanding though the work may be, the rewards for doing it are great. Sharing the commitment to awakening through relationship allows us to go far beyond the possibilities available in more traditional relationships. In so doing we move from a maintenance model to an expansion model of partnership. Such a shift moves us from a commitment to creating security to a commitment to honoring the truth, from co-dependence to interdependence, from control to trust, from manipulation to integrity, from tolerance to joy, and from separateness to connection.
The possibilities of such a commitment go far beyond the pleasures and delights of intimacy with another. Beyond the two is the one of which we are all a part and to which we are all connected. While our lives often reaffirm our experience of separateness, the daily practice of relationship yoga connects us not only to each other, but to our world in a way that can transform our sense of who we re as well as or sense of place in that world.
Most of us are well aware of the practices and techniques that enhance the qualities of trust, intimacy and mutual empowerment in relationship. In the cultivation of mindfulness and self-awareness, we open to the extraordinary possibility that unconditioned intimacy makes available to us. We can touch the essence of our being and realize both our distinct and unique aspects as well as our interrelated nature.
As many of us have discovered and often rediscovered a number of times, knowing what works doesn't guarantee that we will always be able to engage in those practices. Between our longing for connectedness and actions that ultimately promote it, lies a vast territory filled with hidden desires and fear that often shape and influence our responses in ways that seem to "sabotage" our conscious agenda. Finding ourselves repeatedly captured by the same patterns that we've been playing out in various ways for most of our lives, it is often easy to conclude that we're just not cut out for the path of relationship and that we might be better off trying celibacy or living in an ashram instead.
Yet somehow, despite our "better judgment" we may find ourselves continually and compellingly drawn to the dance of intimacy like a moth to the flame, unable to prevent our apparently self-destructive plunge into the fires that both consume and heal us. It is often our willingness to surrender to the power and depth of our desires that allows us to begin to accept the deeper longings that are reflected by them. In coming to terms with these aspects of ourselves in this way, we can learn to experience what it is to awaken more fully those parts of our being that are needed to provide fuel, awaken courage and patience for the journey to wholeness that our heart requires us to take.

Sacrifice is necessary to make something holy, and to make the partnership holy, there has to be a letting go of attachments, attachments to our self image, letting go of our public presentation that we think we need to maintain to be loved and accepted, letting go of any of the manipulative and controlling means we use to shape people's opinions of us, sacrificing the false self we hide behind to risk looking like a fool, to stand there in our transparency and vulnerability. What we are being called to sacrifice is the false self.
It is the joy of using our relationship as our spiritual practice that can transport us to the sublime. But it is the breakdowns of relationship that can also propel us to a divine energy source. In fact it is those places where our edges rub most abrasively against each other that can provide the greatest amount of growth. It's the fighting, betrayals, broken promises, communication breakdowns, blaming, rejections, silences, misunderstandings and distance between us that cause such horrible pain and suffering that we're motivated to do some major work.
It can be the pain of relating that forces us to bear witness tour self and see the parts of ourselves that have been split off, hidden away into the unconscious. It is in the making of meaning from the suffering that we retrieve the lost pars, bonding those formerly severe parts to each other that form a whole. Out of the sacred union within the self, comes a sacred union with other.
In the process of living a sacred partnership, we discover that there are qualities that we must strengthen to become eligible for mastery: courage, commitment, responsibility, self-discipline, impeccability, balance, patience, integrity, honesty, generosity, openness, vulnerability, humility, authenticity, humor, and compassion.
Practicing loving one person deeply over time opens up and strengthens our capacity to love bigger. When we deeply connect to each other, we lose our sense of being as separate, individual self and merge into an expansive identity that is all-inclusive. In this experience there is a disengagement from our ordinary based identity. Loving one person becomes the doorway into all.
Stay tuned for more details in subsequent blogs about some of the practices that strengthen our relationship and lead to a full, rich life of well being.
---
If you like what you read, visit our website www.bloomwork.com and subscribe to receive our free inspirational newsletters.
Shared by: Linda Bloom, LCSW, & Charlie Bloom, MSW, Contributing Bloggers May 26, 2017

Tags: Archive, relationship-skills