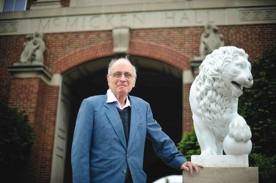 By Dan La Botz
Dr. Herbert Shapiro, a Professor of History at the University of Cincinnati, died earlier this month. Shapiro, the author of ten books and more than fifty academic articles, was an important scholar in the area of African American history.
Professor Shapiro was also a civil rights activist, a founder of the American Association of University Professors (AAUP) chapter at the University of Cincinnati, and an anti-Vietnam War activist who was arrested for his role in a protest in the late 1960s. He is survived by his wife Judith Shapiro, son Mark and daughter Nina. Shapiro (Dominic Gates),
At the memorial service held at the faculty club on campus on October 28, his long time friend, fellow activist and colleague Martha Stephens, a retired English professor commented, "Herb's death seems like the end of an era." In many ways that is true.
A Son of Immigrants
Shapiro, born June 14, 1929, was the son of Jewish parents who like so many others at the time who faced anti-Semitic persecution in the Pale of Settlement in Czarist Russia. They left their village in Byelorussia (White Russia) to migrate to the United States. They settled in the New York area where they became part of the Jewish working class and became involved with the International Ladies Garment Workers Union. Herb Shapiro attended the City College of New York (CCNY), the virtually free university that made it possible for many from the city's immigrant working class children to get a higher education.
Like many other Jews, who had themselves suffered pogroms in Russia and faced discrimination in the United States, Shapiro was sensitive to issues of social justice and sympathetic to the plight of African Americans and their struggle against racism. It was only natural that he should gravitate toward the left. At CCNY left politics had thrived since the 1930s: Socialists, Trotskyists, Communists, and anarchists activists could be found among the faculty and students and political discussion thrived on campus. After earning his bachelor's degree at CCNY's Queens College, his master's from Columbia University he took his doctorate in history from the University of Rochester.
A Scholar on the Left
Shapiro who had become part of the milieu of the Communist Party fell under the influence of one of the country's leading Communist Party intellectuals and African American historians. Herbert Aptheker, the author of American Negro Slave Revolts (1943), a book that represented a turning point in the study of African American history in the United States, became Shapiro's mentor, colleague, comrade and friend. (Many years later Shapiro would edit a Festschrift for his mentor entitled African American History and Radical Historiography: Essays in Honor of Herbert Aptheker which was published as a special double issue of Nature, Society, and Thought, Vol. 10, Nos. 1 & 2, Jan. and April, 1997 and is available online at: http://homepages.spa.umn.edu/~marquit/ApthekerFestschrift.pdf ). Aptheker supported the Soviet Union from the 1930s until its fall in 1991, apologizing for the Soviet crushing of the Hungarian workers' revolution and the Soviet smashing of the Czechoslovakian democratic Spring of 1968. Throughout the McCarthy era from the early 1950s until the late 1960s, Aptheker was persona non grata with the U.S. government and most academic institutions, though at the same time the U.S. government and sometimes U.S. colleges and universities welcomed as professors or trained anti-democratic academics from countries in the U.S.
Having come of age during the McCarthy period, and having seen the price paid by his mentor Aptheker, Herb never talked about the Communist Party or its politics in public, though to anyone who listened carefully his allegiances and views were quite clear.
After marrying Judy, Herb and his new wife moved in 1962 to Atlanta, where he began his teaching career at More­house College, an all-male African-American school where Martin Luther King Jr. had studied. During the time they lived there, the couple took part in sit-ins, rallies and marches against segregation, sometimes with KKK members on the other side of the street. In 1966 he came to teach at the University of Cincinnati where he became the first professor of African American history and wrote his book White Violence and Black Response.  (http://www.amazon.com/White-Violence-Reponse-Herbert-Shapiro/dp/0870235788/ref=sr_1_1?s=books&ie=UTF8&qid=1351554151&sr=1-1&keywords=white+violence+and+black+response ) He also helped to found the African American Studies Program. Hardly had he arrived at the University of Cincinnati, then he threw himself into the campaign to organize the AAUP chapter, later serving as the union president.
A Personal Recollection
When, at the age of 45, I entered the graduate program of the University of Cincinnati in the early 1990s, I took courses in African American history from Professor Shapiro. Already somewhat familiar with black history, his courses helped me put my earlier reading and the reading we did in his class into a broader context. I also occasionally walked labor union picket lines with Herb and his friend Dr. David Sterling, showing our solidarity with one or another group of striking workers. By the time we met in the early 1990s, the Soviet Union had collapsed, so differences over the nature of the Communist state never came up. Over the 25 years that I have lived here in Cincinnati, I frequently found myself, so to speak, on same side of the barricades on many issues.
I liked Herb.Yet, we did not share the same political point of view. I am a democratic socialist and had been throughout my adult life an opponent of both capitalism and bureaucratic Communism. As a believer in independent political action, I was a Ralph Nader and Green Party supporter in the 1990s. Like others shaped by American Communism, Professor Shapiro believed that it was necessary to work within the Democratic Party. Throughout his adult life he was a supporter of the Democrats and their presidential candidates, believing that movements for African American liberation and labor union power would have to be constructed within that context. Certainly if he were alive today, he would be voting for Barack Obama and the Democratic Party candidates..
Yet, though we disagreed, Professor Shapiro and I, we did so cordially. When in November of 2010 I was the Socialist Party USA candidate in Ohio for the U.S. Senate, Herb and Judy invited me to their home to the meeting of The Nation readers' group to present myself and my campaign. I appreciated the courtesy and the respect it showed.
Martha Stephens was right, the death of Herb Shapiro does represent the end of an era. Today's immigrant activist professors are more likely to be Latin American than they are to be Eastern European Jews. The Communist Party's influence over intellectual life has faded, almost disappeared, and today's academic activists are more likely to be independent socialists or perhaps anarchists. Still, just as when Shapiro began his career, the institutional and individual racism against African Americans remains, if not as violent as it once was, still it is disturbingly present. Shapiro's contribution to African American history and his own engagement in civil rights issues represented an important contribution to attempting to enlighten and fight this most virulent of American social pathologies. We will miss him in the classroom and on the picketlines.
Shared by: streetvibes November 11, 2012

Tags: Archive