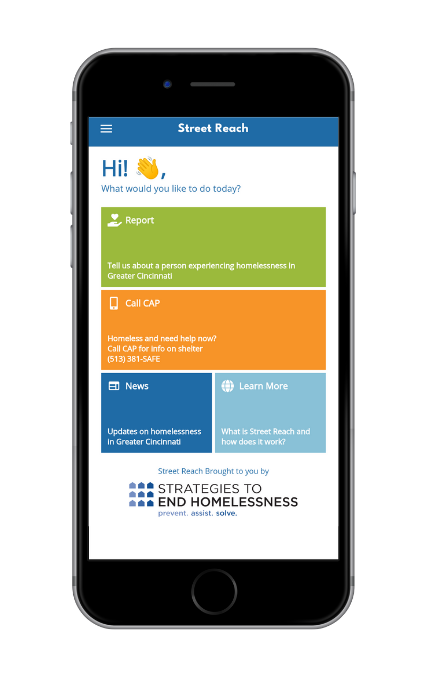 Be our eyes in the community. Download Street Reach and help our neighbors in need!
What is Street Reach?
Street Reach is an app for Android or iOS that allows you to report people experiencing homelessness to our Central Access Point Helpline Intake Specialists. The report includes a general description of the person/persons and a location.
We'll send a trained Street Outreach Worker to that location to check on them, and help them start their journey back to stable housing.
How does it work?
When you see people who may be experiencing homelessness, use the app to let us know their location. We have dedicated Street Outreach workers who engage with people experiencing homelessness every day, and start them on their journey off the street and into emergency shelter, and back to stable housing.
However Street Outreach workers can't be everywhere at once. That's why we need you. When you see someone experiencing homelessness, send us a report. We'll process your report at our Central Access Point Helpline and send a Street Outreach worker out to that location as soon as possible to help.
Available for both Android and iOS. Download now!
Android: https://play.google.com/store/apps/details?id=org.endhomelessness.streetreach
iPhone: https://apps.apple.com/us/app/street-reach-mobile/id1545070420
How else can you help?
Compassionate people like you are changing the world. For that, we thank you! Let's connect on Facebook and Twitter and add impact to your inbox with our email updates. And if you're in a position to provide financial support, consider a donation to help more of our neighbors in need.
The post Street Reach – Help neighbors in need appeared first on Strategies to End Homelessness.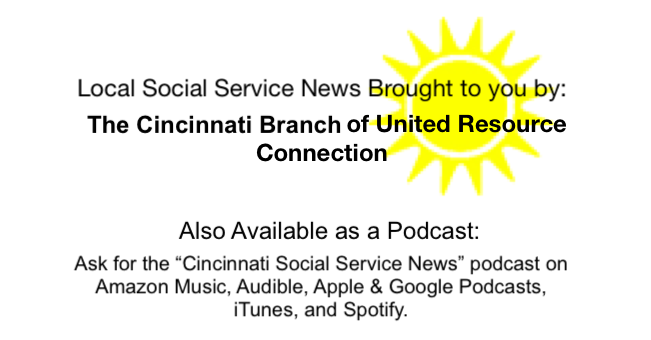 Visit original source at Strategies to End Homelessness (.org)

Shared by: Strategies to End Homelessness March 5, 2021

Tags: Archive, homelessness, News