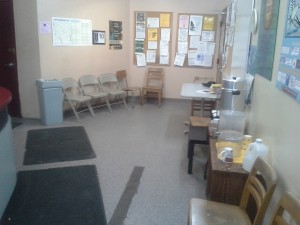 By: Josh Spring LSW, Executive Director
On October 23, 2012, the Homeless Coalition bought the building in which we have been renting the first floor for most of a decade. This is a necessary and important step for us as an organization. We hear the streetcar is supposed to plow past our front door and as many know social justice organizations in Over-the-Rhine have recently felt the political push to move. So, it was high time for us to take ownership. This means we will have a fort to work from for years to come.
This purchase has not come easy, however. Because of the work we do and the stances we take raising money is difficult. We were fortunate to be joined by a few very good people over the last year that assisted us in raising much of the needed money. In addition, another social justice-minded organization loaned with no interest the remaining dollars needed to complete the purchase. So, soon we will own our fort.
Our building has three floors, our need and plan is to expand into the second floor. Our first floor is over-crowded and the lobby especially is not welcoming to people. Our entire first floor has zero natural light. The lobby is very small and causes the increasing number of people using it to often have to squeeze in like sardines. We desire to be welcoming to those that enter our doors, especially our primary constituency; people experiencing homelessness.
We also plan to open up the lobby in addition to enlarging it. We hope to put windows back on the street, to let folks know we are here and open. We are a transparent organization and plan to be that in a literal sense. We want people to be able to see in. Furthermore, as a coalition, we work to bring many people and organizations together to work for an end to homelessness. Currently we do not have a room adequate to hold the numbers at many of our meetings. This limits our work.
The problem is we barely have enough money to get by as it is. So we have to raise money to do this much needed work to make our organization stronger. Over the next several months we will be not only raising operations dollars, but also renovation dollars. We will work hard to leverage every penny and do as much as possible with little money, but we will have to continue to raise more funds. In the end, with the assistance of people, we will be even stronger. Thank you for your support!
Shared by: streetvibes November 5, 2012

Tags: Archive