Stretching into our partner's world.
Linda: In their best selling book on negotiation, Getting to Yes, Fisher, Ury and Patton explain "The ability to see the situation as the other side sees it, as difficult as it my be, is one of the most important skills negotiation can possess." To be able to make the necessary shifts that will lead to a successful outcome there is a requirement, not only of feeling understanding of our partner's point of view, but to grasp with empathy the emotional force with which they believe in that view point. To understand another at that depth is challenging. While our own set of preferences is set aside temporarily, judgments are quieted down while we try on their views.
Negotiation is the process of communicating back and forth for the purpose of reaching a joint decision. To increase the chances of success, we can pay close attention to what the other party is saying. This requires deep listening. Empathic understanding allows us to move from our position to one that is inclusive and will preserve the well being of the relationship.
Emotions will run high during negotiation sessions because people fear that they will not have their needs and preferences met. It is helpful when these strong emotions are exposed. It is an extra burden to the negotiation process to attempt to hide feelings of anger, hurt, fear and frustration. But how those emotions are revealed makes all the difference. If the feelings are expressed in an attacking and blaming way, negotiations tend to tighten up. If feelings are expressed in a more responsible way, negotiations open up.
Discovering the importance of our joint interests will take us a long way. There are some basic fundamental needs that we have in common. Any decisions we come to have to honor these needs for the agreement to last over time. Some basic common denominator that we both desire are: to be secure in the relationship, to feel a sense of trust, enjoy happiness and well-being (both economic and emotional) to be seen, heard, recognized and valued, to enjoy freedom of choice, and feel in control of our life.
Affirming that we have understood and sincerely value the other person's basic needs goes a long way in establishing an atmosphere of cooperation and arriving at agreements that ensure our long-term interest. Finding out what our partner wants and helping them to get it is a basic guideline for a successful relationship. If our partner has come from a materially deprived background, stretching into their world may mean having a stable home with money in the bank to satisfy what they long for most. Material security may not be a high priority item for one partner, but because of their devotion to the other partner's well being, they help them to have that for their peace of mind.
If it's solitude that one partner craves, we can become the "guardian of their solitude" to encourage them to take time behind a closed door to reflect. We can even remind them to go off on meditation retreat regularly, so they have the quiet and stillness that allows them to thrive.
For others it is not the emptiness that lights up their life; it's the fullness. Some like to travel to exotic lands, feel the excitement of pitting themselves against challenges, or gathering family and friends together for parties. If we are wise, we will join them as much as we possibly can.
If creative expression is what floats her boat, he can dedicate a room in the house to being an art studio, which indicates that he take her creativity seriously and treats her talent with honor. If our partner doesn't know what their deepest heart's desire is, live in the question with them until they discover what it is. The exquisite poet, Sharon Olds challenges each of us when she says: "What are you going to do with your one wild and precious life?"
Stretching into our partner's world is a primary way of showing our love for them. To do this, we don't have to give up what is true for us. We can hold fast to our values, priorities and style, while we stretch. It makes us a bigger person. We stand to gain a great deal. Not only are we exposed to more people and experiences, but also we develop into a more flexible, generous, loving human being.
By all means, believe in them. Expressing our love and admiration for our partner is what draws forth their greatness. So many people suffer with deflated self-esteem and do not know their own magnificence. These people need even more validation. But we are all in need of at least one person, (more is better) that we trust and respect, to mirror backs our strengths and talents. It is this consistent mirroring that allows us to develop a more realistic view of who we really are at our basic nature. Our partner can become our live in teacher, reflecting back to us our best self and simultaneously we are doing the same for them.
Our love is a series of actions that show we care. Such a daily practice of stretching into our partner's world and having them stretch into ours is a high level of support that adds up to a life well lived. Through these acts of devotion, we develop our potential and become who we are meant to be.
---
Linda and Charlie Bloom are excited to announce the release of their third book, Happily Ever After . . . and 39 Other Myths about Love: Breaking Through to the Relationship of Your Dreams.
Praise for Happily Ever After: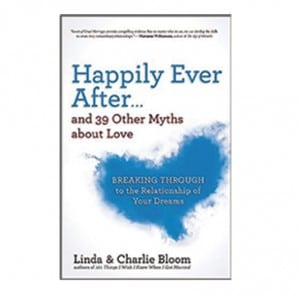 "Love experts Linda and Charlie shine a bright light, busting the most common myths about relationships. Using real-life examples, they skillfully, provide effective strategies and tools to create and grow a deeply loving and fulfilling long-term connection." – Arielle Ford, author of Turn You Mate into Your Soulmate
If you like what you read, click here to visit our website www.bloomwork.com and subscribe to receive our free inspirational newsletters.
Follow us on Facebook!
Shared by: Linda Bloom, LCSW, & Charlie Bloom, MSW, Contributing Bloggers March 10, 2017

Tags: Archive, relationship-skills