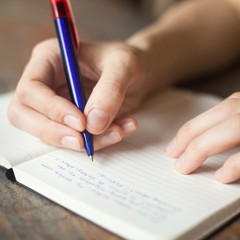 I'm often asked about life purpose when I give an intuitive reading.
The answer doesn't usually come to me as a description of my client's job or career. More often it's a quality, attribute or characteristic we're here to develop.
If you don't yet know your life purpose, here's a quiz for you.
1)  What are three of your best qualities? Perhaps these are things that your friends and family often say about you. (Examples: I am a loyal friend. I'm patient, kind, and inspiring to others.)
2)   What are some areas of your life where you have difficulty. (Examples: I have a tough time telling others how I feel. I'm not very patient. I'm extremely afraid of risk.)
3)   Write about all the things you love to do and then write about why you like to do them. (Examples: I love to study healing because I feel that I can contribute to making others feel better. I love to cook because I enjoy entertaining my friends and providing healthy meals for my family. I enjoy writing because I can get my message out to a lot of people.)
4)  What are some qualities you'd like to develop? (Examples: I'd like to be more extroverted. I'd like to laugh more and be less serious. I'd like to be a kinder person.)
Here are some further questions to ponder for writing in a journal:
5)  What did you discover about yourself after completing the above lesson and exercise?
6)  What do you think you might need to work on?
7)  What new skills would you like to learn to enhance your life purpose?
8)   What have you been passionate about in your life?
9)  What would you like to change in the world?
Remember that your life purpose need not be a huge project or undertaking.  It may be a quality you develop or a gift you share with your immediate family and community.  Listen to the still, small voice within and allow it to show you your purpose.
10)  After completing the questions above fill in the blanks to the following sentences. Take whatever answer pops into your mind. Don't think about it too much. And let your intuition be your guide.
In this life, I have come here to learn _____________________________.
I am also here to develop my ____________________________________.
The gifts (positive qualities and characteristics) I have brought with me are _____________ and ___________ and my ability to ____________________.
I believe that my life purpose is __________________________________
And –––––––––––––––––––––––––––––––––––––––––––––––––––––––
Having completed the exercise, what are some ways you could use this information? Perhaps the insights will help you develop a specific quality or renew your passion for a cause or simply to have more courage as you face a challenging time in your life.
I'd love to read your answers. Feel free to share them in the comments section!
Hands writing in a journal image available from Shutterstock.
Shared by: Lyn Robinson M.Ed, Contributing Blogger January 3, 2014

Tags: Archive