I'm so pleased to have Shawn Fink of Abundant Mama  on the blog today!
For the longest time,  from the moment I woke up, my brain started spinning, turning, flipping, and flopping about what needed to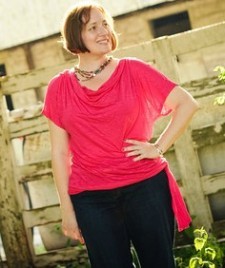 be done.
It wanted to think. It wanted to wander. It wanted to wonder.
It did not want to be quiet. It did not want to focus. It does not want to be still.
As a devout early riser, my automatic setting used to be to get up and start doing. Start checking email. Start making lists. Start working. Start writing. Start gathering. Start making.
And what I really spent that time doing was thinking, "What can I hurry and get done before I cannot get anything done?"
It's as if I felt like once the kids woke up all productivity would end.
And while I'm certainly not as productive when the kids are awake and asking for my help in a million different ways, it's not true that I'm not productive.
This recent realization has changed the way my mornings unfold. I no longer feel this sense of urgency to be productive, even when I know I have a ton to do. I no longer count the minutes I have left … and, instead, I focus on the minute I'm fully living in right now.
The change began with baby steps that have now evolved into being able to take a solid chunk of time for myself in the mornings.
The result is that I felt softer, lighter and ready to face the day no matter what happened or what was planned.
As soon as my reactions were less forceful and rushed, my children relaxed, too. Our mornings just simply flowed. Granted, they are still children and there are still morning battles, but they are few and far between.
By taking a different approach and changing my mindset about mornings, I was able to transform my entire family's mornings, too.
Here are some Mindful Mama Morning Routine tips for you to try at home:
Avoid all Screens — This is truly the key for a mindful morning routine. Our automatic pilot says check email, check Facebook, check this, check that. Avoiding the screens until your brain has fully had a chance to wander and wonder — and also not think at all — is the healthiest way to start a day.
Breathe — Stepping outside to take just three deep breaths is the most energizing, meaningful routine to implement. In just one to three minutes, your body, your mind and your spirit will be completely awake.
Light a Candle — A soft glow in a dark room makes for a great focal point for meditation or just gazing at for non-thinking time. Many moms are not used to doing nothing so staring at a candle flame offers a tangible guiding point.
Journal the Junk — One of my own transformative ways to start my day is through morning pages. Julia Cameron touts these "write out all the junk" pages as a great creativity booster but they are also a great mindful exercise, too. By writing whatever comes to mind, my head feels lighter by the time the children wake up.
Shawn is the founder of The Abundant Mama Project, an online community that inspires busy moms to be present, playful and peaceful. For more ideas to create amazing mornings, check out her free e-book The Abundant Mama's Guide to Peaceful Mornings.
Want more Mindful Parenting? Follow Carla on Facebook and Twitter !
Shared by: Carla Naumburg, Ph.D, Contributing Blogger January 22, 2014

Tags: Archive, Mindful Parenting