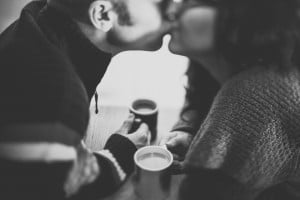 Linda: So many people now are refusing to enter into this formally recognized union of marriage because they have negative associations with the institution. What if what's true is that the institution of marriage isn't the problem at all, but how people define it. For decades, family and community dictated what the roles of husband and wife must be, and most people conformed to those expectations. There was a certain comfort, security, and safety that came with such strict rules. Of course some decisions had to be made, but it was nothing like the challenge of decision making today. With so many dictates from family and community, there wasn't much negotiation required on the part of the couple. They just followed direction and did what the couples around them were doing.
We live in such a different time, now, when women make their own money and men are involved in child-rearing and homemaking. Everything is negotiable. The predictability and security of previous decades is gone, but the option of adventure and creativity has never been more available. Who works where, for how many hours, how the money is spent and much saved, how much child care to purchase, whether to move, and to where, whether to take the job promotion that requires more responsibility and more hours away from the family, how often to entertain with two demanding careers, and on and on.
We most often hear the definition of dysfunctional family as to a situation where only the needs of one family member are met and the needs of other family members are not. Perhaps the father's needs are met to the exclusion of the children, or the parent's needs are met to the exclusion of the children, or the children's needs are paramount and the parents' needs are neglected. The exact same rules apply for a couple to become a functional family. Both sets of needs must be met as much as possible.
To become a functional family is time consuming and demands a great deal of both negotiators to realize when it's time to let go of a preference, and when it's time to take a stand. It sometimes requires giving our partner the benefit of the doubt, risking being taken advantage of, becoming more assertive or more flexible, and constantly striving to grow into the kind of emotional intelligence that are the markings of great negotiators. It is tapping into our creativity that allows for the brainstorming about which specific skills we most need to develop.
To refine our skill in negotiating, we need to practice the following:
self-expression which relies of using "I statements which are responsible communications about our perceptions, feelings, thoughts and needs.
active listening by using eye contact, nodding, and mum hum to encourage our partner to continue
non-reactive, non-defensive listening which is focusing our attention on what our partner is saying with a commitment to understand their view
validation with statements like 'I can see how you can feel that way" which indicates understanding not necessarily agreement
clearly defining the challenge
developing the kind of creativity that will allow brainstorming of possibilities and options
collaborating to find the best possible solution that fits both peoples' needs
creating agreements and keeping those agreements, which builds trust to meet the next challenge
If we understood the enormous benefits of refining the art of negotiation, large numbers of people would be motivated to apply themselves to mastering the components that make up this necessary skill where both parties coming away with feelings of satisfaction is the sign of great negotiations. Once the fear level goes down, all manner of topics (money, sex, child-rearing, blended families, household chores, in-laws, etc.) can be addressed successfully. Not only does the well-being of romantic partnership go up, but the negotiation skills are transferable. These skills enhance our life with all those with whom we interact. Indeed some sacrifices will need to be made, but over all there is mutual agreement that evens out the sacrificing.
Each partner feels that they got a lot, although sometimes not all of what they wanted. But they come away from the negotiation feeling proud of their participation that they were honest and considerate, and did not resort to manipulative tactics. They also come away from the negotiation feeling that although they were generous, while they were not overly generous. And there is confidence that when the next round of negotiations come about, that there will be a spill over effect, so that those issues can be handled with growing ease.
-=+=-=+=-=+=-=+=-=+=-=+=-=+=-=+=-=+=-=+=-=+=-=+=-=+=-=+=
Linda and Charlie Bloom are excited to announce the release of their third book, Happily Ever After . . . and 39 Other Myths about Love: Breaking Through to the Relationship of Your Dreams.

Praise for Happily Ever After:

"Love experts Linda and Charlie shine a bright light, busting the most common myths about relationships. Using real-life examples, they skillfully, provide effective strategies and tools to create and grow a deeply loving and fulfilling long-term connection." – Arielle Ford, author of Turn You Mate into Your Soulmate
If you like what you read, click here to visit our website bloomwork.com and subscribe to receive our free inspirational newsletters. Follow us on Facebook !
Shared by: Linda Bloom, LCSW, & Charlie Bloom, MSW, Contributing Bloggers July 9, 2016

Tags: Archive, relationship-skills