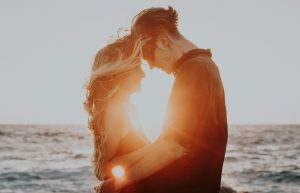 Linda: My husband thinks we should get the trophy for the most improved couple. We got together when we were so young that we didn't have many clues about what a good marriage looked like. Neither my parents nor his had a wholesome marriage so we didn't have a model. We were flying by the seat of our pants. We made so many mistakes. We didn't know how to negotiate differences and our fears ran us. We manipulated, shouted, threatened, used silence, and all manner of unskillful means attempting to get our way. Back then, we had no concept that if one person loses, both people lose. We were both such hot chili peppers in the early days that we would blurt out things that we would be sorry for later, and boy did we pay for it.
Our relationship was never at risk for petering out from boredom. We had plenty of passion but it was at risk of burning out from being overheated. We both committed ourselves to cultivating self-discipline and self-restraint to pause and reflect before speaking so that what came out of our mouth was more likely to be constructive. Pain is a great motivator and over time we learned how to fight fairly and manage our differences with some skill. We came to call it "conscious combat".
There are times when we let each other down in our immaturity, lack of understanding and forgetfulness, and cause pain to the one we love the most. I had to learn to release from the grip of the inner perfectionist and face the reality that a marriage isn't always rosy, that sometimes there really are dark times. I cultivated the qualities of patience, tolerance, acceptance, and forgiveness and learned how to rebuild the trust after it had sunken. Over time we learned how to take responsibility and not blame the other person if there were rough spots.
Another area where we fell down on the job was neglecting our relationship. There were years when my husband was building his career where he made his profession more important than the marriage. And when the kids were small, I was so preoccupied with being a devoted mother that often the needs of the marriage for some fun and enjoyment fell off of the priority list. There were times when neither one of us was taking very good care of ourselves so we didn't have very much to bring to the marriage. It was drying out. In the nick of time we realized how emaciated the marriage was getting and began to prioritize the romantic aspect of our life and we nursed it back to health. We began to see our partnership as a living entity like a new baby in the family that needs to be nourished, and it's diapers changed. Changing the baby's diaper is the metaphor I use to clean up and not let any incomplete issues lay around unattended to.
One of the things that we learned along the way is how important it is to make your partner's needs as important as our own, not more important than our own, but not less important than our own. When we began to appreciate the importance of this balance for a healthy, successful relationship we each started to ask the questions and listen deeply to each other about our lofty and wildest dreams. We envisioned a fulfilling life and committed ourselves to being mutually supportive of each other. We came to call this "find out what your partner wants and help him/her get it". We learned that there are so many creative ways to show our love for the other. It's the very best use of our time and energy to become a more loving human being and to show that care in so many ways. We recognized that the way we show love is generally how we like love shown to us. We can't help but be subjective, but our partner is different from us, and we have to ask. We learned that one of the most important questions that we can ask our partner is, "how may I best love you?"
We had a really rocky start in our early years but we had dogged determination and came to understand that the secret of life is "just don't quit". Commitment has taken us quite far. It is not the kind of commitment of "I'm going to stand it till death do us part", but commitment to the process of doing our own work, keeping attention on ourselves, so that the relationship thrives. We've come to call this, "enlightened self-interest".
My husband knows if he has a happy wife, he has a happy life. And I know that if my husband is thriving, and has those things that make life fulfilling for him, he's my happy husband. We teach workshops about growing relationship skills. We tell our before and after stories when we were confused, harmed our relationship, and dangled precariously at the edge of divorce. We tell our stories too, of how blissfully happy we are now. After almost 50 years together we enjoy so much ease, harmony, and cooperation. We tell our students about the thrill of the co-creative process. The before stories about how unskillfully we managed our relationship in the old days seem to inspire our students. Many of them tell us that if we were that screwed up, that they can do at least as well to become an extremely happy couple too.
---
If you like what you read, click here to sign up for our monthly inspirational newsletter and receive our free e-book: Going For the Gold: Tools, practice, and wisdom for creating exemplary relationships.

Shared by: Linda Bloom, LCSW, & Charlie Bloom, MSW, Contributing Bloggers December 11, 2017

Tags: Archive, relationship-skills