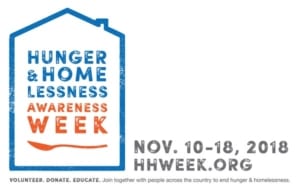 Hunger and Homelessness Awareness Week is November 10 – 18th. This week is about generating conversation around hunger and homelessness and engaging communities.
Hunger and Homelessness Awareness Week: National Statistics
Many Americans are living on the edge. Choosing between basic necessities like purchasing food, paying rent, or going to the doctor.
According to the National Coalition for the Homeless, 43.1 million Americans live below the poverty level. 549,000 Americans are homeless on a typical night. While 42 million Americans are at risk of suffering from hunger. And 1 in 5 children in the U.S. live in poverty.
Hunger and Homelessness Awareness Week: Greater Cincinnati homeless population
Race:
There are significant racial disparities in the national and local homeless population. African Americans make up more than 40% of the homeless population, but represent 13 percent of the general population.
In Hamilton County, African Americans made up 62% of the homeless population in 2017. But only make up 26.5% of the population of Hamilton County (census.gov)
Children:
24% of the local homeless population are children under the age of 18. Another 11% are between the ages of 18-24
According to the Institute for Children, Poverty, and Homelessness, "homeless children suffer from chronic illnesses and acute illnesses at twice the rate of the general ambulatory population."
Families:
Throughout 2017, there were 560 families that experienced homelessness in Hamilton County. According to the National Alliance to End Homelessness, on any given night, nearly 60,000 families in the U.S. are homeless.
Youth:
There are 800 homeless youth in Greater Cincinnati
Street Homelessness:
It may seem like street homelessness (a person sleeping in a place not meant for human habitation) is on the rise. But only 14% of Hamilton County's homeless citizens slept outside or on the streets in 2017. That's compared to a nationwide community average of 34%.
Health Effects of Homelessness
Health:
Mental Illness:
The post Hunger and Homelessness Awareness Week appeared first on Strategies to End Homelessness .
Click to visit original source at Strategies to End Homelessness (.org)

Shared by: Strategies to End Homelessness November 13, 2018

Tags: Archive, homelessness, News