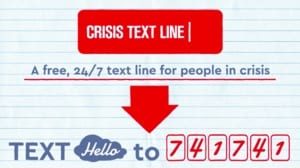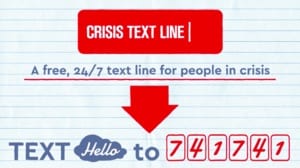 741741 is the number for the Crisis Text Hotline in the United States and Ontario Canada.

Q: HOW DOES CRISIS TEXT LINE WORK?

You text 741741 when in crisis. Anywhere, anytime. A live, trained crisis counselor receives the text and responds quickly. The crisis counselor helps you move from a hot moment to a cool calm to stay safe and healthy using effective active listening and suggested referrals – all through text message using CTL's (Crisis Text Line's) secure platform.

Q: WHO SHOULD TEXT IN? The CTL exists to help anyone in crisis at any time.

All text messages to the CTL are anonymous and free, although charges may apply with carriers other than AT&T, T-Mobile, Sprint, or Verizon.

The service is available 24 hours a day in the United States. The Toronto Distress Center's ONTX is available between 2 P.M. and 2 A.M. local time every day, and can be reached by texting the same number — 741741.

Shared by: United Resource Connection December 18, 2018