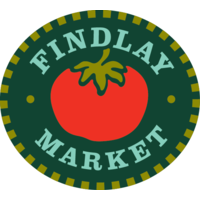 The SNAP Plus/Produce Perks program at Findlay Market helps families afford more fresh fruits and vegetables and other healthy food typically found in the Findlay Farmers Market.
Since 2007, low-income shoppers have been able to exchange their EBT dollars for one-dollar brass tokens that they can spend like cash in our farmers market. SNAP Plus enhances this service by providing food stamp shoppers a match to their spending – the incentive is a dollar-for-dollar match to every dollar spent (up to $10) using an EBT at the market – effectively doubling your purchasing power of healthy fresh food.
Learn more about Findlay Market's SNAP Plus, EBT, and Produce Perks program and participating vendors here.
How SNAP Plus & Produce Perks Programs Work at Findlay Market
Take your EBT card to the Education Center, located in the red booth next to the Shed at Findlay Market. After swiping your EBT card, you will receive gold and green tokens that are equivalent to $1.00 each and can be used in the Outdoor Market.
Hours for the Education Center are:
Fridays: 11am-4pm
Saturdays: 8am-3pm
Sundays: 10am-3pm*senior citizen and vulnerable populations special hour in The Shed (9am-10am)The incentive is a dollar-for-dollar match for every dollar spent (up to $10 per visit for SNAP Plus and up to $25 per visit for Produce Perks) using an Ohio Direction Card, a Hoozier Works Card, or Kentucky-issued EBT Card.
Pay for your Findlay Farmers Market purchases with the tokens– most Findlay Farmers Market vendors will accept them.
Gold tokens can only be used to purchase USDA-SNAP eligible food items.
The green Produce Perks tokens can only be used to purchase fresh, local fruits and vegetables.
P-EBT
P-EBT is short for Pandemic Electronic Benefits Transfer and is reimbursement for children in grades K-12 who are eligible for free and reduced lunch. Click here to view a helpful handout.
Participating Merchants
HERE is a full list of EBT accepting merchants
HERE is a full list of SNAP Plus accepting merchants
HERE is a full list of Produce Perks accepting merchants

Shared by: United Resource Connection February 19, 2021

Tags: Archive