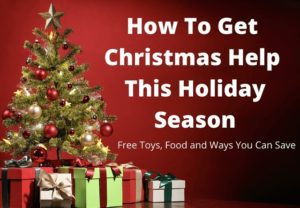 The number of agencies that provide holiday assistance in Cincinnati and nearby communities is extensive. Non-profits distribute everything from free Christmas toys, gifts, and meals to clothing, groceries, and Toys for Tots Applications. Thousands of children and seniors are able to experience some form of holiday joy as the result of the generosity of these programs and charities, and families can be given free Turkey dinners too.
Residents across the entire region can get help. Christmas and Thanksgiving programs are available in Kentucky, including the counties of Campbell, Grant, and Kenton. Low income families in Ohio can get assistance during the holidays, and resources extend to Brown, Butler, Clermont, and Hamilton County. Last, but not least, the Indiana counties of Jefferson, Dearborn, Ohio, Ripley and Switzerland can receive help.
The programs for the entire area rely on donations from the community. Please do contribute clothes, gifts, toys, or help by participating in the adopt a family program, Toys for Tots, or Angel Tree. Your generosity can help children and the elderly have a present to open on Christmas morning or receive a free, hot meal on a holiday.
Clearing House
215 Fourth Street
Aurora, Indiana 47001
(812) 926-1198
Clermont County residents can receive food and toys at the holiday. Assistance is for local low-income families with children under the age of 18.
Landmark Baptist Church
Address: 1450 Clough Pike
Batavia, OH 45103
(513) 752-7751
The Salvation Army has multiple centers in the region. They provide social services, emergency financial aid, and of course other help around the holidays. This can include Thanksgiving meals and turkeys, toys and gifts at Christmas, gifts, clothing, volunteer opportunities, Toy Shops and more. Another main program is Angel Tree, which allows people from the community to donate items. Referrals are also offered to nearby churches and non-profits.
Salvation Army Batavia and Clermont County, 87 North Market Street, Batavia, Ohio 45103. Call (513) 732-6328.
Center Hill Corps, 6381 Center Hill Avenue, Cincinnati, OH 45224, dial (513) 242-9100 for information.
Salvation Army – Citadel Corps, 120 East Central Parkway, Cincinnati, OH 45210. Call (513) 762-5649
West Side Worship & Service Center, 3503 Warsaw Avenue, Cincinnati, OH 45205, (513) 251-1424
114 East Central Parkway, Cincinnati, Ohio 45202. Telephone number is (513) 762-5600
Kenton County Corps, 1806 Scott Street, Covington, Kentucky 41014, (859) 261-0835
Jefferson County Corps center is at 331 East Main Street, Madison, IN 47250. Call (812) 265-2157
Middletown Corps, 1914 First Avenue, Middletown, OH 45044, (513) 423-9452
Butler County, 1914 First Avenue, Middletown, OH 45044, (513) 423-9452
Newport Corps, 340 West 10th Street PO Box 271, Newport, KY 41071. Telephone number is (859) 431-1063
As noted, there are many Salvation Army centers in this service area. Find free Christmas assistance from Ohio Salvation Army.
Caring Place
6312 Kennedy Avenue
Cincinnati, OH 45213
Phone – (513) 841-1499
The site provides bags of groceries and free food for Christmas to registered clients of Pleasant Ridge, Kennedy Heights, Golf Manor, and Silverton. Or apply for toys for children.
Churches Active In Northside
4230 Hamilton Avenue
Cincinnati, Ohio 45223
(513) 591-2246
This church and other locations provide food, meal baskets, toys, and other support to only this zip code. Homeless can get food as well as children from lower income families may be provided free stocking stuffers or gifts.
Corpus Christi Church
2014 Springdale Road
Cincinnati, Ohio 45231
Call (513) 825-0618
Inter Parish Ministry
3509 Debolt Road
Cincinnati, OH 45244
Telephone number is (513) 561-3932
St. George Interfaith Food Pantry
108 Calhoun Street, Corner Of Dennis And Classen Streets
Cincinnati, OH 45219
Telephone – (513) 751-8771
Provides Christmas toy and gifts for food pantry clients only.
St. Leo Church
2573 St. Leo Place
Cincinnati, OH 45225
(513) 921-1044
Sells toys and clothing for a minimal cost.
Valley Interfaith Food & Clothing Center
420 West Wyoming Avenue
Cincinnati, OH 45215
(513) 821-3233
Washington United Church Of Christ
Address: 2950 Sidney Avenue
Cincinnati, OH 45225
Main number is (513) 541-7757
Mental Health America Of Northern Kentucky & Southwest Ohio
Location is 912 Scott Street
Covington, KY 41012
Telephone number: (859) 431-1077
The center provides a community dinner at Easter, Thanksgiving, and Christmas. In addition, volunteers and staff organize activities for children, provide free clothing and Christmas gifts at the Northern Kentucky Convention Center. It supports all Southwest Ohio and also Northern Kentucky.
South Side Baptist Church
1501 Holman Street
Covington, Kentucky 41011
Main number: (859) 431-1314
Provides toys for children 12 years old or younger and free Christmas food baskets to low income eligible residents and the poor.
Hope Ministries Of Northern Kentucky
Location is 263 Main Street
Florence, Kentucky 41042
(859) 371-1887
Georgetown Church Of Christ
Main address: 149 Hamer Road
Georgetown, OH 45121
Call (937) 378-3309 for information.
The non-profit runs the Angel Tree donation program. It is one of the resources that can assist Brown County residents. Toys, gifts, clothing, and other presents may be obtained.
Mercy Health St. Raphael of Butler County
610 High Street
Hamilton, OH 45011
(513) 981-4200
New Life Baptist Mission
Address: 415 Henry Street
Hamilton, OH 45011
Telephone: (513) 896-9800
Has gifts for children in the community.
Open Door Food Pantry
800 South Front Street
Hamilton, Ohio 45011
(513) 868-3276
Butler County Community Action Agency
1790 South Erie Highway
Hamilton, OH 45011
(513) 868-9300
The program offered is Support To Encourage Low-income Families (SELF). It provides holiday gifts for SELF's clients and their children. This is only an option for qualified SELF families who are actively working towards self-sufficiency and trying to better their lives and financial situation.
Family Service Of Middletown
1311 Columbia Avenue
Middletown, OH 45042
(513) 423-4637
Offers free holiday assistance programs for people in Madison, Monroe, Middletown and Trenton Ohio.
Regional Toys for Tots
This is a service offered in every county and city, including Hamilton, Butler, Jefferson, Kenton, and many others. Children, including immigrants and newborns, can receive free Christmas toys, games, clothes, and gifts. It is a donation driven program. Call 211 to apply for help. Or for the metro area, learn more here. https://cincinnati-oh.toysfortots.org/local-coordinator-sites/lco-sites/default.aspx?nPageID=100&nPreviewInd=200&nRedirectInd=3
Brighton Center
Main address is 741 Central Avenue P. O. Box 325
Newport, KY 41072-0325
(859) 491-8303
Runs a one day only toy shopping opportunity for Northern Kentucky children. Toys, books, games, and more may be available to low income families, the unemployed. Seniors can get help too, such as delivered meals at Christmas.
Family Resource Center
Location of the non-profit is 5445 College Corner Pike
Oxford, Ohio 45056
(513) 523-2047
Provides monetary credit and vouchers to shop for children's gifts.
Christian Outreach Assistance Center- Rising Sun Church Of Christ
430 5th Street
Rising Sun, IN 47040
(812) 438-3805
Reach Out Lakota
6561 Station Road
West Chester, OH 45071
Telephone – (513) 779-7515
Distributes Christmas gifts and toys for residents and children of West Chester and Liberty Township.

Shared by: United Resource Connection December 25, 2021

Tags: Archive