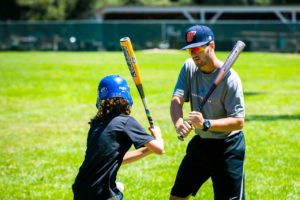 A baseball clinic will be sponsored by Spencer Athletics at the Withrow High School baseball field on Saturday, May 21st.  This opportunity is available for students in grades 3 through 12 and will be an instructional day of baseball with experienced coaches to develop skills.
¡Regístrese lo antes posible, ya que las plazas son limitadas!
CLÍNICA DE BÉISBOL SPENCER
Cuándo: sábado 21 de mayo
Curso/hora: 3er a 6to grado: de 9:00 a.m. a 10:30 a.m.
Grado/horario: 7° a 12° grado - 11:00 a.m. a 12:30 p.m.
Dónde: Escuela secundaria Withrow - 2294 Dana Ave. Cincinnati, OH 45208
Quién: TODOS los estudiantes de CPS
Cuota: GRATIS
HAGA CLIC AQUÍ PARA REGISTRARSE:
¡Póngase en contacto con el director de Spencer Athletic, Caelan King, en kingcae@cps-k12.org si tiene alguna pregunta!
Puede encontrar más recursos relacionados con el desarrollo y la recreación infantil seleccionando la opción «desarrollo infantil» y/o «recursos recreativos» en la pestaña desplegable de nuestra página de búsqueda en la biblioteca de recursos «Encuentra ayuda ahora».
Puede encontrar enlaces a los recursos mencionados en este episodio con la versión escrita de esta historia en nuestro sitio web en cincinnati, punto, conexión de recursos unidos, punto, org.
Has estado escuchando las noticias del servicio social de Ohio del condado de Hamilton en Apple Podcasts. Si tiene noticias de servicios sociales para enviar a este podcast, visite cincinnati dot united resource connection punto org. Una vez allí, también puede suscribirse para recibir un resumen gratuito de las noticias de los servicios sociales de la semana pasada que se le envían por correo electrónico todos los sábados por la mañana. Así que visítenos en línea para descubrir más noticias y recursos de servicios sociales.
CUANDO LA PUBLICACIÓN ORIGINAL [NO AUTOBLOG] INCLUYE LO SIGUIENTE:

Shared by: United Resource Connection May 16, 2022