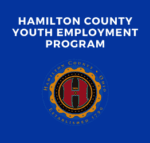 The Hamilton County Youth Employment Program provides summer jobs and year-round job readiness training for Hamilton County residents ages 14-21. The program helps young people in Hamilton County find work, explore careers and remove barriers to create a clear path to more education or a career.
To be eligible, young people must have a household income at 200 percent of the federal poverty level and/or have an eligible barrier to employment. When participants complete the program, they will have a written training plan to help them continue on the path toward their chosen career.
5 million dollars has been invested in the Hamilton County Youth Employment Program, thanks to voters who supported the Children's Services tax levy last November. Boosting employment services and giving more help to older teens were two of the promises Hamilton County officials made in support of the levy.
If you are between the ages of 14 and 21 and looking for a job, you can complete the Eligibility Application found on the Hamilton County Job & Family Services website. 
Youth Benefits Include:
Earn $13 per hour
Earn incentives/bonuses
Get help creating a resume
Earn micro-credentials that will boost your resume
Transportation and ID assistance
Training opportunities to prepare for careers
Jobs May Include:
Customer Service
Automotive
Construction
Urban Farming
The Arts
Technology
Government Administration
Hospitality
Landscaping
Healthcare
Office
Businesses owners that can employ a young person can email the JFS Youth Employment Program us to discuss potential participation in the program.
The format and/or content of this post has been edited to fit guidelines of the Cincinnati Chapter of United Resource Connection for this rebroadcast.
You can find more resources related to Child Development & Employment by selecting the "Child Development" and/or "Vocational Rehabilitation" option from the dropdown tab on our "Find Help Now" Resource Library Search page.

Shared by: Hamilton County Job & Family Services April 29, 2022

Tags: Archive