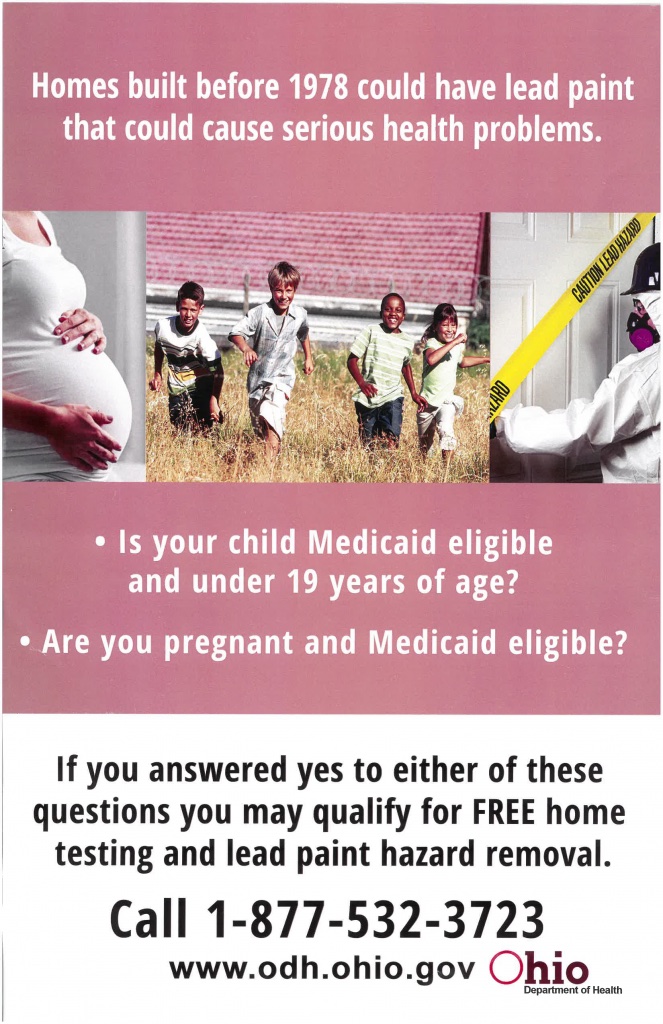 Dust containing lead paint particles have been found to present a significant risk for lead poisoning in children. This dust can shed from paint in houses and apartment buildings built before 1978, when use of lead paint was very prevalent in both public and private housing.
How to Ascertain the Risk
There are fact sheets about lead poisoning available for download in English and Spanish. There is also a photo gallery of common sources of lead poisoning available as a pdf for download and sharing. The photos show what different sources of lead exposure look like, such as peeling paint on doors, windows, and stairways. If any of the pictures look familiar in your home or apartment, you may have a lead poisoning risk and should pursue testing.
Hamilton County Public Health offers FREE Paint Chip Testing. Simply collect several large nickel to quarter-sized chips in a plastic sealable bag. Use a different bag for each location from which you are collecting the paint chips. Label each bag with your name, phone number and the location from which the paint chips were taken. Bring the chips to the Hamilton County Public Health office, located at 250 William Howard Taft Road, on the second floor. Leave the paint chips with the front receptionist and an employee assigned to the program will contact you with the results of the paint chip testing. Your test results should be ready in 1 to 2 business days. There is a downloadable flyer with these instructions for getting paint chips tested, available on the Hamilton County Public Health website.
Free testing is available for children age 6 years and under who are seen at Hamilton County Public Health immunization clinics. A list of these immunization clinics and locations can be found on their website.
The Hamilton County Health Department also provides Risk Assessors and Health Educators. Risk Assessors can come and check for the presence of lead poisoning hazards. Health Educators accompany them to provide education about the health risks of lead exposure and tips on how to limit the effects of lead exposure, including hand hygiene, cleaning and nutritional information.
How to Remove a Source of Risk
FREE services are available to homeowners and renters, to remove lead poisoning hazards in one's home or apartment. Hamilton County Public Health loans out Specialized Vacuum Cleaners at No Charge to assist property owners with lead paint cleanup and removal. There is a $100 refundable deposit required for the loan. You can call (513) 946-7879 for more information. The vacuum loan agreement is available for download.
Hamilton County also offers Grants to Eligible Home Owners and Owners of Apartment Buildings, to remove established lead paint hazards in their buildings. To be eligible, the building must be a single family or multi-family property built before 1978; residents must be at or below 80% of the area median income; the household must include a child under the age of 6, a pregnant woman, or have a child under the age of 6 that regularly visits the home for 6 or more hours per week; water and electric utilities must be on and available; and property taxes and mortgage payments must be current. Owner occupied units must keep the property as their primary residence for 3 years after the work is completed, and owners of rental units must keep units available for low income families after the work is completed.
A form explaining the application process for the Hamilton County grants is available online. All the required forms for the application are also available online, including: the property application, occupant information form, relocation information form, and visiting child form. These forms can be emailed or dropped off, or mailed to, 4612 Paddock Road, Cincinnati, Ohio 45229.
Lead paint hazard removal funding through the Hamilton County Health Department program is not available to residents of the City of Cincinnati, Norwood or Springdale, which have their own health departments. If the residence is in one of these areas, you can reach out to the Ohio Department of Health for assistance. The State program is available for low-income families where a woman is pregnant, or has a child under the age of 6 years old, or where a child under 6 years old spends time. There are no fees or out of pocket expenses in most cases to participate in this State program. Call 1 (877) 532-3723, or email the program director, Pam Blais, for more information.
If you are looking on your own for a contractor that can deal with lead paint hazards, there is a search page available to help find contractors licensed to provide testing, inspections, and/or abatement services, by zip code. The results provide contact information for the contractors, as well as their license expiration date.
Additional resources for lead paint hazard testing and cleanup, including how-to videos are available on the Hamilton County Public Health Lead Poisoning Prevention webpage.
You can find more resources for medical care by selecting the "Primary Medical Care" category tab on our Social Service "Utilization Library page.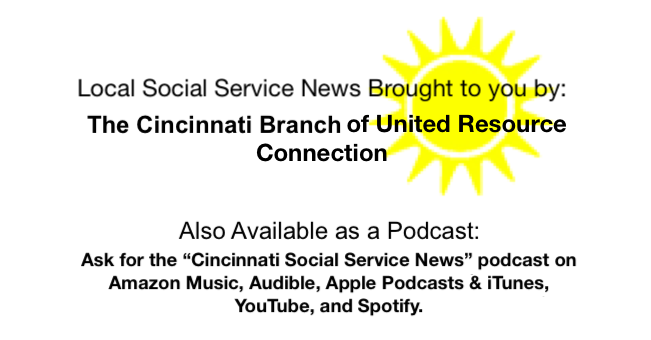 Shared by: United Resource Connection June 23, 2023