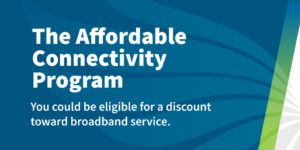 The Affordable Connectivity Program (ACP) is a new Federal program to help ensure people can afford broadband internet service. The ACP provides a discount of up to $30 per month towards broadband service for eligible households and up to $75 per month for those on qualifying Tribal lands. Eligible households can also receive a one-time discount of up to $100 to purchase a laptop, desktop, or tablet from participating providers if they contribute more than $10 and less than $50 toward the purchase price.
Eligibility Qualifications
You are eligible for the ACP if you or someone in your household participates in one of the following programs: The Supplemental Nutrition Assistance Program (SNAP); Medicaid; The Special Supplemental Nutrition Program for Women, Infants, and Children (WIC); Supplemental Security Income (SSI); Federal Public Housing Assistance (FPHA); Veterans Pension and Survivors Benefit; Free and Reduced-Price School Lunch Program or School Breakfast Program, including at U.S. Department of Agriculture (USDA) Community Eligibility Provision schools in the 2019-2020, 2020-2021, or 2021-2022 school year; or if you Received a Federal Pell Grant in the current award year.
Use the consumer portal at www.checklifeline.org to verify eligibility. Complete the form online and an email will be sent to you that documents your eligibility and provides your application ID number. Once you have this information you can begin investigating which local internet provider offers the best deal for you.
If You Already Receive a Lifeline Benefit You Automatically Qualify
Lifeline is a Federal Communications Commission program to help make communications services more affordable for low-income consumers. If you currently receive a Lifeline benefit, you automatically qualify for the ACP, and you can receive both benefits at the same time. You can apply your ACP benefit and your Lifeline benefit to the same or separate services. Talk to your internet company to learn how to start receiving ACP discounts.
Local Providers
Not all internet companies offer the Affordable Connectivity Program. The FCC provides a search tool to find Ohio internet providers that offer ACP discounts. Cincinnati Bell (now called Altafiber) is one of the local providers. Consumers may also be eligible for a one-time discount on a laptop, desktop computer, or tablet through the ACP. Not all internet providers offer the device benefit, but the aforementioned search tool identifies which local companies do.
Two-Steps to Enroll
1. Go to ACPBenefit.org, print out a mail-in application; or create an account to submit your application online.
2. Contact your preferred local internet provider who participates in the program to select an eligible plan and have the discount applied to your bill. Some providers may have an alternative application that they will ask you to complete. Eligible households must both apply for the program and contact a participating provider to select a service plan.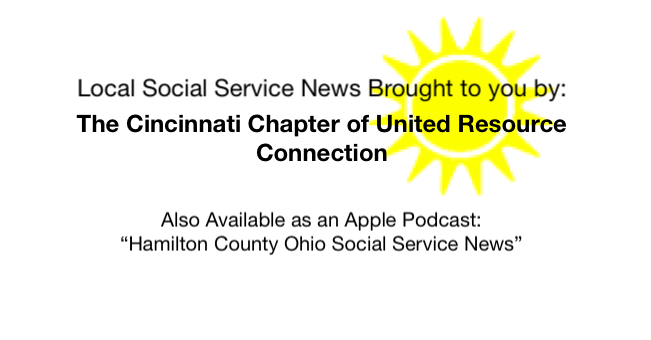 Shared by: United Resource Connection March 11, 2022

Tags: Archive