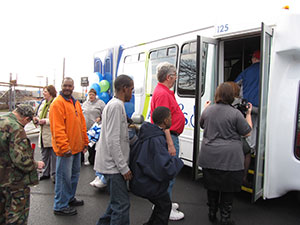 Some individuals with disabilities are unable to ride the regular Metro Bus service without assistance. Some are unable to climb the steps on their own and secure seating in a timely manner. Some have heavy wheelchairs that they are unable to secure on their own, or other mobility issues requiring assistance. These individuals can apply for a program that uses buses and staff specialized to assist with these issues, the Metro Bus Access Program. This program provides eligible participants a number of additional services that make riding the bus easier for those with disabilities, including:
1) Assisting customers on and off the vehicles; 2) Securing customers' wheelchairs or scooters; 3) Fastening customers' seat belts; 4) Calling 911 in case of any medical emergency on the vehicle; and 5) Collecting fares.
The service will not provide help with carrying groceries and packages, or with installing child safety seats. If these services are needed they will need to be secured independently.
The Metro Access Bus Service is a shared-ride public transportation service, meaning a number of other individuals with disabilities will be riding together. The program provides origin-to-destination transportation in small buses equipped to serve people with disabilities. To use the service, one must first register and be approved, a process that can take up to three weeks.
Application for the Metro Access Bus Service
Disability alone does not qualify a person to use the program. Eligibility depends on completion of an application and a skills assessment to determine whether or not one has the functional capability to use the regular bus services on their own.
The application includes several forms, and includes a cover sheet with instructions for completing the application process.
Applicants must complete the Metro Access Bus Application as well as have a Medical Verification Form completed by a doctor familiar with their disability.
In Person Transportation Skills Assessment
Once the application forms are complete, call (513) 632-7586 to schedule the in-person transportation skills assessment. The assessments are conducted at 7000 Montgomery Road in Silverton, on Mondays, Wednesdays, or Fridays, between 8:15 a.m. and 4 p.m. (closed noon through 1 p.m.). New applicants and re-certifying customers should bring a photo ID and their completed application with them to their appointment.
Bring a Photo ID. New applicants and re-certifying customers are required to present a valid photo ID for their assessment. Valid forms of ID include a State issued driver's license, a State issued ID card, or a Passport.
Bring Completed Application forms. Applicants will need to reschedule their assessment appointment if they are unable to provide both the application forms and the ID at the time of their appointment.
Bring any Mobility Aid normally used. Applicants should also bring any mobility aid that they normally use when traveling, as the use of these items will be included in the assessment.
Re-certify ahead of expiration date. All MetroAccess customers are required to re-certify for service periodically. For re-certifications, applicants may experience a lapse in service if they do not keep their assessment appointment or fail to complete the entire process by their expiration date. Remember it may take three weeks to complete the application process.
Applicants have the right to appeal unfavorable decisions made about their application and assessment, and can do so by submitting an Appeal Form provided by the program.
Metro Access Bus Fare
If you are approved for the service, the fare in Hamilton County is currently $4.00 per ride. There are a number of locations to purchase tickets, including Government Square (5th St at Walnut Street), Clifton Heights (Calhoun St at Clifton Ave), UC Med Center (Burnet Ave at Goodman Street), Oakley Transit Center (corner of Isben & Marburg), and the Northside Transit Center (between Blue Rock Street & Spring Grove Avenue). The metro website has a full list of locations where tickets can be purchased. One can also purchase tickets using their mobile app available for iOS and android devices. This Transit app is Metro's official partner, and can be used for mobile fare payment, as well as trip planning and real-time arrival tracking.
Fares can be paid in any combination of cash and tickets equaling the exact fare, but Access tickets cannot be accepted for fares on other Metro buses.
Service Area & Hours of Operation
The Metro Access Bus service area and hours of operation are based on regular Metro service. Access service is limited to operation within 3/4 of a mile of regular (non-express) Metro service and within the hours of regular (non-express) Metro service.
You can make Requests for Reasonable Modifications & Procedures of the services using an online form, as well as file complaints about service if you ever feel you have been treated unfairly. For any remaining questions regarding Metro Access Bus policies, please call the Access information line at 513-632-7586.
You can find more resources related to transportation by selecting the "transportation" option from the dropdown tab on our Social Service "Utilization Library" page.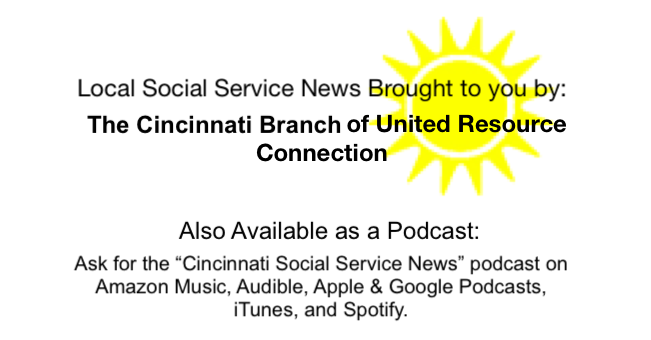 Shared by: United Resource Connection October 20, 2022

Tags: Archive, Transportation