The St. Vincent de Paul Charitable Pharmacy, with locations at the Don & Phyllis Neyer Outreach Center and the Western Hills Thrift Store, provides a last resort safety net for those who have no other way to access their prescription medication.
Services
The St. Vincent de Paul Charitable Pharmacy offers the following services:
1) Prescription medication filling, dispensing and counseling;
2) Medication therapy management and comprehensive medication reviews;
3) Disease state and medication use education, follow-up and monitoring;
4) Health screenings (hypertension, diabetes) and medical home placement;
5) Influenza and pneumonia immunization when available; and
6) Patient Assistance Program enrollment, which helps enrollees obtain their medication at low or no cost.
Eligibility
To be eligible for any of these services:
1) You must live in Hamilton, Warren, Butler or Clermont County;
2) Your household income is less than 300 percent of the Federal Poverty Level or your paid living expenses must equal or exceed income;
3) You have no insurance or insurance with unaffordable copays;
4) You must complete an in-person certification process; and
5) You are required to be re-certified every six months.
Certification
Patients may certify for the pharmacy program by walk-in, appointment, or physician referral. Walk-in space is limited. To make an appointment, please call 513-562-8841, ext. 223. To be certified to receive medicine from St. Vincent de Paul, you must provide:
1) Proof of residence (bill or photo ID with your current address);
2) A Photo ID; and
3) Verification of income for yourself and of all members of your household for the past two months, such as:
a) two most recent paychecks or pay stubs;
b) a bank statement showing paycheck deposits;
c) a statement of unemployment benefits;
d) a statement of child support and/or alimony;
e) a Social Security, SSD, or SSI letter or statement;
f) a statement of Food Stamp Benefits from JFS; or
g) your latest tax return.
If you have no income, please bring: 1) a letter from a case manager of the social service or health agency that referred you, on agency letterhead, stating that you have no income; OR 2) a letter from a payee, or anyone who gives you money to pay your bills stating that you currently have no income; OR 3) a letter written by you stating that you currently have no income.
If your household monthly income is greater than 300 percent of the Federal Poverty Level, you also need to bring: 1) verifications of expenses paid by all members of your household, including: Rent or mortgage statement; Utility bill (gas, electric, water, sewer, trash); Home and/or cell phone bill; Credit cards and student loan bills; Hospital, doctor, and pharmacy bills; Car payment and insurance bills; Alimony, child support, or child care bills; and any other bills and expenses on which you are paying that are not listed here. 2) a photo ID and health insurance cards (Medicare, Medicaid, private, etc.); and 3) the original or faxed prescriptions. A printout of all current medications is also helpful.
The format and/or content of this post has been edited to fit guidelines of the Cincinnati Chapter of United Resource Connection for this rebroadcast.
You can find more resources related to medication assistance by selecting the "Medication" option from the dropdown tab on our Social Service "Utilization Library" page.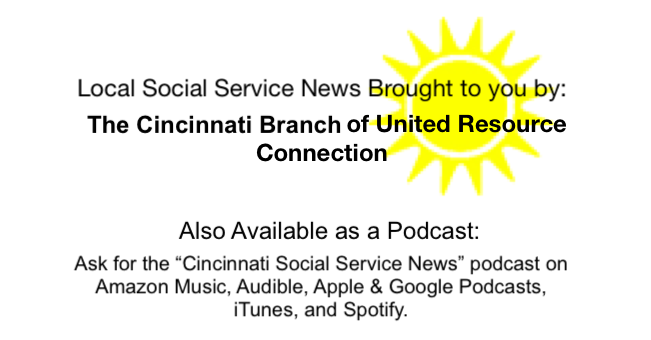 Shared by: United Resource Connection July 2, 2022

Tags: Archive